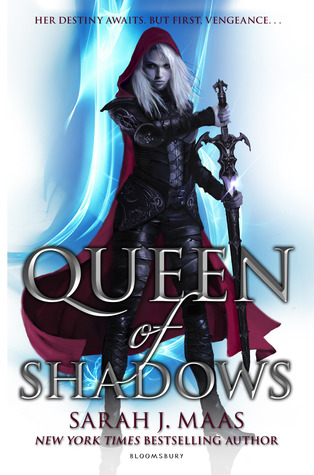 Title:
Queen of Shadows
Author:
Sarah J. Maas
Series:
Throne of Glass #4
Publisher:
Bloomsbury
Source:
Review Copy
Publication Date:
1st September, 2015
Everyone Celaena Sardothien loves has been taken from her. But she's at last returned to the empire—for vengeance, to rescue her once-glorious kingdom, and to confront the shadows of her past . . . She will fight for her cousin, a warrior prepared to die just to see her again. She will fight for her friend, a young man trapped in an unspeakable prison. And she will fight for her people, enslaved to a brutal king and awaiting their lost queen's triumphant return. Celaena's epic journey has captured the hearts and imaginations of millions across the globe. This fourth volume will hold readers rapt as Celaena's story builds to a passionate, agonizing crescendo that might just shatter her world.
It isn't an exaggeration to say that Queen of Shadows has been my most anticipated read in 2015. I haven't eagerly awaited sequels with this kind of anticipation since the days of Harry Potter. The only down side I have to this book is the realisation that we only have two left! I know that it's at least two years away but I don't feel like I'll ever be ready to say goodbye to the characters in these pages.
Queen of Shadows is darker, more emotional and more powerful than the previous three books. I was sucked in from the word go and I fell in love with the characters more and more as the book developed. I found myself feeling a range of emotions; happiness, excitement, rage, annoyance – the list goes on! I feel like I know so much more about this world and I'm so excited to see where the next book takes us.
The character development and world building blew me away. I can't believe I'm in the same world as Throne of Glass. Everything is so different. We're on a completely different path with these characters and I love everything about it. I'm fully embracing Aelin (though I'll admit I had a bit of a mourning period for Celaena) and I love the new dynamics building between the cast of new characters.
One thing is for sure – Sarah J Maas is not afraid to torture her characters and her readers. I found myself flicking through the pages to find out what was happening to Chaol, to Dorian, to Aelin, Rowan, Manon – everyone! I didn't expect certain things to unfold in this book; there are so many plot twists and horrific revelations. The witches are part of something much darker than even they realise and I'm so intrigued to see what this holds for Manon and her thirteen.
The thing that struck me the most when I'd finished was how amazingly developed this series is. Thinking back to Throne of Glass, it's so incredibly different and it has advanced and expanded so much. In true fantasy style it's taking us all on a journey and we change as the characters change. I could talk and talk and talk about this book all day, but I'm going to call it a day before it turns into an essay. One thing is for definite and that is that I'm in awe of Sarah J. Maas' writing style and talent and I really cannot wait for the fifth book in the series.