Hey guys! Long time, no speak? Things have been a little hectic in my personal life these last few months so the blog has been a little neglected. October seems like the perfect month to bounce back! I love Halloween and adore the Autumn so today I'm bringing you some of the books that I'm looking forward to reading this Halloween.
The Silent Companions by Laura Purcell
Bloomsbury's newest imprint Raven Books is bringing out some absolute corkers in its debut year.
The Silent Companions
is a book that has been on my radar back from when I worked at the company back in January. Inspired by Susan Hill and Shirley Jackson, I knew this was going to be a book that I saved up especially for Halloween.
This book is pitched as a 'Gothic ghost story which is set to send a shiver down your spine' and follows a newly married and newly widowed Elsie. The description is giving me all sorts of
The Little Stranger
vibes and I can't wait to get stuck in!
Add to your TBR on Goodreads:
The Taste of Blue Light by Lydia Ruffles
'The nightmares tend to linger long after your screams have woken you up ...'
The Taste of Blue Light
has been on my radar for the longest time. From the two different colour proofs to the pure subject matter of the book. I'm intrigued by what happened to Lux Langley. What happened to her over the summer? Why was she in hospital?
Why are her dreams etched in red?
With a quote from Louise O'Neill and Sara Barnard, I knew it was going to be a book that was right up my street.
Add to your TBR on Goodreads:
Sleeping Beauties by Stephen and Owen King

OK I feel like I have been waiting for this book FOREVER. Ever since Hodderscape started the teaser campaign I was hooked. The plot: What might happen if women disappeared from the world? I knew there was no way that I wasn't picking this book up. Having just read It for the first time, I am in the mood for more Stephen King writing in my life and this father/son collaboration seemed like the perfect thing!
Add to your TBR on Goodreads:
Behind Her Eyes by Sarah Pinborough
'Don't trust this book. Don't trust this story. Don't trust yourself.'

Sarah Pinborough's latest book has been storming the book charts since publication and it's no surprise. It sounds like the perfect psychological thriller to curl up with during the Halloween month. A marriage that looks perfect on the outside but why is he so controlling and what is she hiding? I can't wait!
Add to your TBR on Goodreads:
Nevernight by Jay Kristoff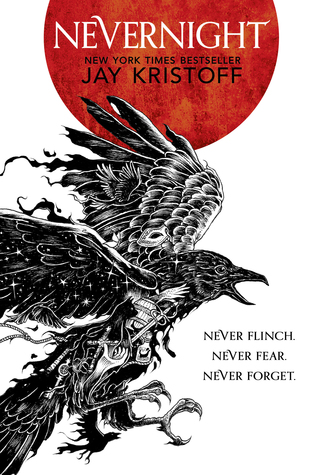 I may be late to the party but I don't think there is a more perfect time to get stuck into a new fantasy series than October! Love for this series is absolutely everywhere and having read Illuminae I am so ready for more of Jay Kristoff's work.


'The Red Church is no Hogwarts, but Mia is no ordinary student.The shadows love her. And they drink her fear.'

Nevernight sounds like it'd be perfect for fans of Red Sister by Mark Lawrence so I cannot wait to get stuck in. As a huge fantasy fan, I am excited to follow Mia on her journey towards destroying the empires.

Add to your TBR on Goodreads: