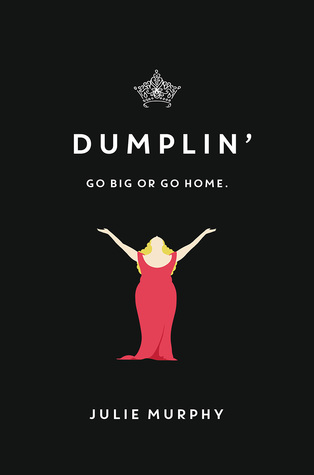 Title:
Dumplin'
Author:
Julie Murphy
Series:
None
Publisher:
Harper 360
Source:
Review Copy
Publication Date:
15th September, 2015
Self-proclaimed fat girl Willowdean Dickson (dubbed "Dumplin'" by her former beauty queen mom) has always been at home in her own skin. Her thoughts on having the ultimate bikini body? Put a bikini on your body. With her all-American beauty best friend, Ellen, by her side, things have always worked…until Will takes a job at Harpy's, the local fast-food joint. There she meets Private School Bo, a hot former jock. Will isn't surprised to find herself attracted to Bo. But she is surprised when he seems to like her back. Instead of finding new heights of self-assurance in her relationship with Bo, Will starts to doubt herself. So she sets out to take back her confidence by doing the most horrifying thing she can imagine: entering the Miss Clover City beauty pageant—along with several other unlikely candidates—to show the world that she deserves to be up there as much as any twiggy girl does. Along the way, she'll shock the hell out of Clover City—and maybe herself most of all. With starry Texas nights, red candy suckers, Dolly Parton songs, and a wildly unforgettable heroine—Dumplin' is guaranteed to steal your heart.
Dumplin' is a book which has been on my radar for quite some time now, so when I was offered a copy to review I jumped at the chance. It isn't often that we read YA books about plus sized female characters (at least in my experience - please do recommend some if there are more!) so I was intrigued to see how it was handled. The most captivating thing about this book was Willowdean's attitude for the majority of the book. I loved that she had such a great, positive attitude and that she didn't seem to give a damn about what anyone thought of her. I found that Julie Murphy's incorporation of insecurities pressured on to Willow by her mother and other 'friends' made this book all the more realistic (although frustrating in places).
Something which I thought was great was that Julie included a romance with a 'hot former jock' for Willowdean. Often, I find that things like this are hidden away in books but I loved that Julie managed to confront so many issues. As a girl who considers myself plus sized and who had a variety of weight/ food issues when I was younger, I found Willow so relatable. The thoughts that went through her mind seemed so very familiar to me and I felt like I could really connect with the characters. Not only is this book great for being more body positive, but Murphy manages to write teen friendships so very well.
Dumplin' is an emotional rollercoaster of a book and I loved every second of it. Willowdean felt like such a real character and I connected with her on many levels. This is definitely a book to pick up for a quick and entertaining read.