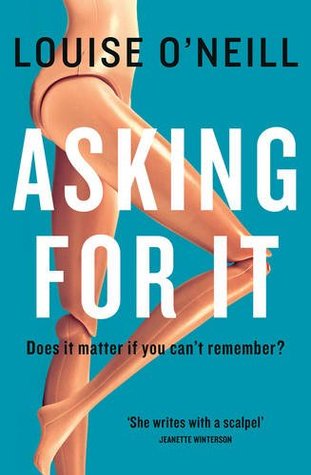 Title:
Asking For It
Author:
Louise O'Neill
Series:
None
Publisher:
Quercus
Source:
Review Copy
Publication Date:
3rd September, 2015
FROM THE WINNER OF THE SUNDAY INDEPENDENT NEWCOMER OF THE YEAR AWARD. It's the beginning of the summer in a small town in Ireland. Emma O'Donovan is eighteen years old, beautiful, happy, confident. One night, there's a party. Everyone is there. All eyes are on Emma. The next morning, she wakes on the front porch of her house. She can't remember what happened, she doesn't know how she got there. She doesn't know why she's in pain. But everyone else does. Photographs taken at the party show, in explicit detail, what happened to Emma that night. But sometimes people don't want to believe what is right in front of them, especially when the truth concerns the town's heroes...
Where oh where to start with this book. As you are all more than likely aware, Louise O'Neill is one of my favourite authors.
Only Ever Yours
took my breath away with it's brutal language and truths - it was feminist fiction at its best and I couldn't wait to get my hands on her next book.
Asking For It
is nothing short of perfection. Louise O'Neill once again tackles the tough and almost taboo like topic of rape and she handles it so incredibly well. This book is absolutely brutal and blunt in what it tells us but my god is it a book that we need, particularly within YA.
Asking For It
is set in Ireland and is based around disgusting events which happen to the protagonist Emma. Having spoken to Irish friends, they have ensured me that what is depicted within these pages is exactly the reaction a young woman would be faced with upon being raped. I have always felt that the media succeeds in allowing us to distance ourselves from such horrific incidents: murder, war, rape, abuse, but this book focuses so clearly on the before's and after's of Emma's rape that it forced me to confront this problem head on. Louise O'Neill is such a powerful writer; her words shock you to the core and draw attention to this horrific topic.
This is a book that I would recommend to everyone. It's a book that needs to be widely read. It's so honest, shocking and brutal. It's Louise O'Neill at her best. She is such talented author and I love that her work doesn't shy away from the brutal reality of various situations. It's so completely different from her debut; it's even more hard-hitting. It's a book that I found myself reeling from upon finishing. I can't wait for this book to get out into the wild - you need to pick up a copy!