Today on the blog, Ross Armstrong author of the psychological thriller The Watcher stops by to talk about 'viewers' and how Alfred Hitchcock influenced his work.
For Your Viewing Pleasure
When I first stood considering the amount of life you can see when your neighbours are blessed with floor to ceiling windows, I was aware that this story may have been told before.
I decided to regenerate Rear Window both because I think we're living in the third or fourth generations of stories; remakes are made of remakes, which get turned into television series. And because Hitchcock's perverse eye for social detail was something relevant that is often hinted at but rarely met head on. I wanted Alfred to be deafeningly loud in the mix. At this stage, we are all avid watchers; hoovering up culture night by night, making new tales difficult when the old are so readily available at a small cost and the touch of a button. So I wanted my hero to be very aware of him, a Hitchcock scholar even, but still powerless to stop herself carrying out the mistakes she'd seen occur in his films.
However, Rear Window was far from the first version of a 'looking' story I'd seen. My first was Woody Allen's Manhattan Murder Mystery, in which a neurotic city couple believe they've seen a man in their building dispose of his wife. But then I also loved The Burbs, where Tom Hanks and his bored suburban friends become heroes by uncovering a murderous family in their otherwise humdrum neighbourhood. In fact, before I'd ever seen Rear Window, I'd also clocked up Peeping Tom, Disturbia, The Conversation and Sliver. Which are respectively about the disturbed, escapist, obsessive or erotic power of watching, or listening.
I wanted to piggyback onto these stories and subvert them in many ways, but most importantly by passing the leering eye onto a woman. Yes, other than the couple in Allen's film, these movies 'viewers' are all male. Such strange thrills, it seemed, are generally reserved for men. Indeed, in a 1975 essay by film critic Laura Mulvey, she asserted that cinema itself had a 'Male Gaze'. How much more transgressive might it be, I wondered, to write a woman with these powerful, somehow liberating, psycho-sexual opportunities.
'He likes to watch' has become a cliché phrase. 'She likes to watch' is apparently a far more unsettling concept.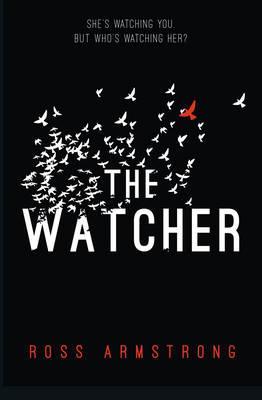 Title:
The Watcher
Author:
Ross Armstrong
Series:
None
Publisher:
HQ, Harper Collins
The Girl on the Train meets Rear Window, The Watcher is an absolutely addictive and on trend commercial psychological suspense read, with a captivating unreliable narrator and some powerful narrative twists. She's watching you, but who's watching her? Lily Gullick lives with her husband Aiden in a new-build flat opposite an estate which has been marked for demolition. A keen birdwatcher, she can't help spying on her neighbours. Until one day Lily sees something suspicious through her binoculars and soon her elderly neighbour Jean is found dead. Lily, intrigued by the social divide in her local area as it becomes increasingly gentrified, knows that she has to act. But her interference is not going unnoticed, and as she starts to get close to the truth, her own life comes under threat. But can Lily really trust everything she sees?