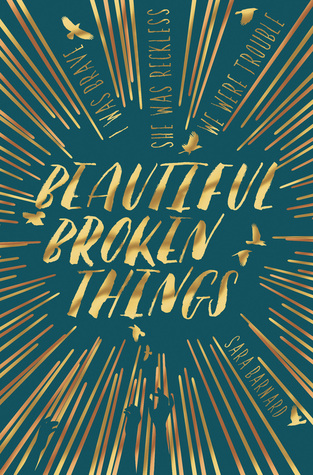 Title:
Beautiful Broken Things
Author:
Sara Barnard
Series:
None
Publisher:
Macmillan Children's Books
Source:
Review Copy
Publication Date:
21st January 2016
I was brave She was reckless We were trouble Best friends Caddy and Rosie are inseparable. Their differences have brought them closer, but as she turns sixteen Caddy begins to wish she could be a bit more like Rosie – confident, funny and interesting. Then Suzanne comes into their lives: beautiful, damaged, exciting and mysterious, and things get a whole lot more complicated. As Suzanne's past is revealed and her present begins to unravel, Caddy begins to see how much fun a little trouble can be. But the course of both friendship and recovery is rougher than either girl realises, and Caddy is about to learn that downward spirals have a momentum of their own.
Oh my god. This book. This book is one of the most emotional and beautiful things that I have read in a long time. I'm struggling to put into words exactly how this book made me feel. Sara Barnard has written such a powerful and moving book for her debut and I'm already looking forward to reading more from her.
Beautiful Broken Things
is a book about friendship, growing up, about love, support and mental health. This book is so relatable and it hit me hard, I challenge you not to get moved by this book.
Now I'm not a crier. It takes a lot to make me tear up or to feel absolute sadness for a character in a book, but reading
Beautiful Broken Things
had me gripping the pages and parts of it near enough broke my heart. Caddy, Rosie and Suzanne are so very real and I found myself identifying with each of them in different ways. The jealousy, the love, the laughter, the recklessness, the pain; it was all so very real and Suzanne's situation was handled so perfectly. I loved seeing their friendships strengthen as the pages went on, and I found myself identifying with them on so many levels.
On a more personal level, this book really hit home with me. Although I never experienced the situation that Suzanne was in, I have lived with anxiety and panic attacks for a lot of my teen years and know how tough things can be, unfortunately. One of my teenage best friends went through a tough time emotionally, similar to Suzanne but with different circumstances, and the emotions that Suzanne showed and her actions were so painfully familiar.
Beautiful Broken Things
handles the issue of mental health so beautifully and carefully and so well researched. Nothing is sugar coated and I loved how depression was handled as a whole in this book. It's one of the rare gems that lays it out there as it is and makes no apologies for showing its brutality and portrays it so honestly.
Beautiful Broken Things
most certainly packs a punch. I cannot believe that this is a debut. I laughed, I cried, I hoped and it absolutely exhausted me. This is one of those books that I really felt like picking it up and starting it all over again. It's one of those books that you cannot stop thinking about and I can't wait for everyone to start reading it. Sara Barnard is one to look out for and I'm so excited to see where her writing career takes her.