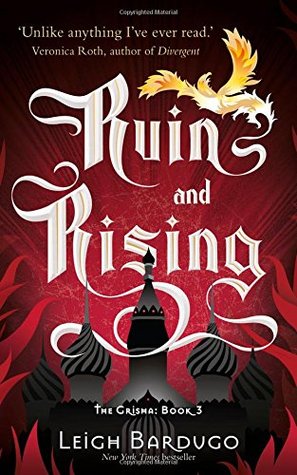 Title:
Ruin and Rising
Author:
Leigh Bardugo
Series:
The Grisha #3
Publisher:
Indigo
Source:
Purchased
Publication Date:
1st September, 2015
The capital has fallen. The Darkling rules Ravka from his shadow throne. Now the nation's fate rests with a broken Sun Summoner, a disgraced tracker, and the shattered remnants of a once-great magical army. Deep in an ancient network of tunnels and caverns, a weakened Alina must submit to the dubious protection of the Apparat and the zealots who worship her as a Saint. Yet her plans lie elsewhere, with the hunt for the elusive firebird and the hope that an outlaw prince still survives. Alina will have to forge new alliances and put aside old rivalries as she and Mal race to find the last of Morozova's amplifiers. But as she begins to unravel the Darkling's secrets, she reveals a past that will forever alter her understanding of the bond they share and the power she wields. The firebird is the one thing that stands between Ravka and destruction—and claiming it could cost Alina the very future she's fighting for.
I have been meaning to finish this trilogy for the longest time, but had just never gotten around to it. Every single time I pick up a book by Leigh Bardugo, I kick myself for waiting for so long.
Ruin and Rising
was no different. I was sucked straight back into Ravka and the battle between Alina and The Darkling. This book was so much more intense than the previous two and I found myself eagerly flicking through the pages! I had to know what was going to happen and how things were going to unfold.
Ruin and Rising
is a fast-paced, thrilling page turner that I couldn't put down. The finale was everything I wanted it to be and more. I loved seeing everyone come full circle. There were some twists and turns; some moments where my mouth just hung open from shock at some of the events that unfold. One thing I will admit though, The Darkling is not evil enough for me. I wanted more from him and I think this is why the book got a 4.5 rather than a 5*. I wanted more plots and villainy. I wanted to see more of him in the book. It centres round Alina and her followers more than anything else. We only glimpse The Darkling through her eyes.
The lack of The Darkling is probably my only complaint about this book though! It was a brilliant finale and I can't wait to sink my teeth into Six of Crows. Leigh Bardugo writes fantasy so beautifully and this trilogy was fantastic.