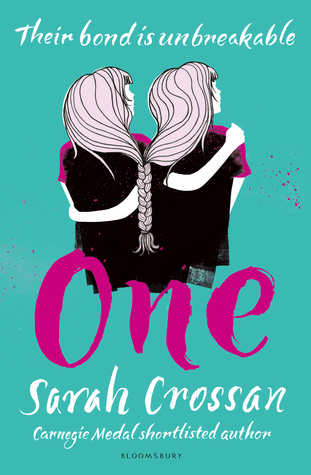 Title:
One
Author:
Sarah Crossan
Series:
None
Publisher:
Bloomsbury
Source:
Review Copy
Publication Date:
26th August, 2015
Grace and Tippi are twins – conjoined twins.
And their lives are about to change.
No longer able to afford homeschooling, they must venture into the world – a world of stares, sneers and cruelty. Will they find more than that at school? Can they find real friends? And what about love?
But what neither Grace or Tippi realises is that a heart-wrenching decision lies ahead. A decision that could tear them apart. One that will change their lives even more than they ever imagined…
From Carnegie Medal shortlisted author Sarah Crossan, this moving and beautifully crafted novel about identity, sisterhood and love ultimately asks one question: what does it mean to want and have a soulmate?
One
was a book that I was massively intrigued by. I had only read one other book that featured conjoined twins and I was eager to see how Sarah Crossan approached the topic and how it impacted on the book as a whole. The result is so beautiful and poetic - it's a book unlike any other that I've ever read before. It's written in verse form, but don't let this put you off. I felt like this book couldn't have been written in any other way. It's beautiful, emotional and elegant - guaranteed to bring out all of the feels!
The relationship between Grace and Tippi is so beautiful. It's a connection like no other and I really felt that Crossan did a good job of conveying this. She targeted a lot of questions that are generally asked about conjoined twins but in such a sympathetic and sensitive way.
One
is so well researched and so beautifully portrayed - I didn't want the book to end. It was such an insightful read and I'm looking forward to reading more books by Ms. Crossan.