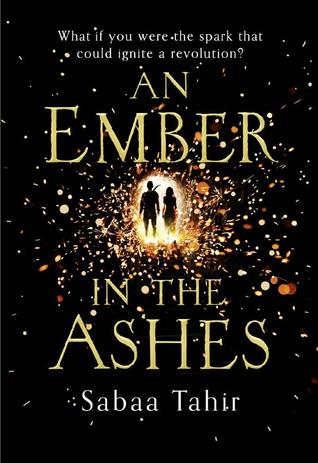 Title:
An Ember in the Ashes
Author:
Sabaa Tahir
Series:
An Ember in the Ashes #1
Publisher:
Harper Voyager
Source:
Review Copy
Publication Date:
4th June, 2015
Set in a terrifyingly brutal Rome-like world, An Ember in the Ashes is an epic fantasy debut about an orphan fighting for her family and a soldier fighting for his freedom. It's a story that's literally burning to be told. LAIA is a Scholar living under the iron-fisted rule of the Martial Empire. When her brother is arrested for treason, Laia goes undercover as a slave at the empire's greatest military academy in exchange for assistance from rebel Scholars who claim that they will help to save her brother from execution. ELIAS is the academy's finest soldier-- and secretly, its most unwilling. Elias is considering deserting the military, but before he can, he's ordered to participate in a ruthless contest to choose the next Martial emperor. When Laia and Elias's paths cross at the academy, they find that their destinies are more intertwined than either could have imagined and that their choices will change the future of the empire itself. Vow your blood and body to the empire. Keep your heart for yourself.
An Ember in the Ashes is such a great, emotional and thrilling read. This book has been on my wishlist for what feels like the longest time and having read it, I am not disappointed. I cared so much about both Laia and Elias's happiness and I was so eager to find out what was going to happen and how their lives were going to intertwine. Sabaa Tahir has created a brilliant three dimensional world and it is so hard to drag yourself back out of it. My morning commute was never long enough when I had this book in my hand!
Although I've read a lot of novels which have a similar premise to this, there was something really special about this book in particular. The relationship between the characters and the world that was built was phenomenal. I loved learning about the revolution and the twists and turns throughout are guaranteed to keep you on your toes! Helene is such a fiery character and I'm so excited to see how things unfold in the next one.
This book is such a strong debut. I'm so excited to see what others think of this book. This series has the potential to be up there with Sarah J. Maas's Throne of Glass series for me. The world is so rich and vivid and the characters are so very real. I definitely recommend a read of An Ember in the Ashes.