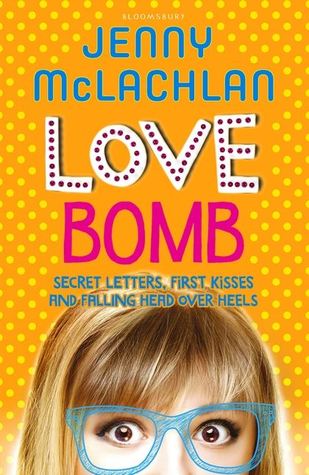 Title:
Love Bomb
Author:
Jenny McLachlan
Series:
The Ladybirds #2
Publisher:
Bloomsbury
Source:
Review Copy
Publication Date:
12th March 2015
Perfect Valentine's reading for fans of Geek Girl and Louise Rennison.
Betty Plum has never been in love. She's never even kissed a boy. But when H.O.T. Toby starts school it's like Betty has been hit with a thousand of Cupid's arrows. It's like a bomb has exploded – a love bomb!
More than ever Betty wishes her mum hadn't died when Betty was a baby. She really needs her mum here to ask her advice. And that's when she finds hidden letters for just these moments. Letters about what your first kiss should feel like and what real love is all about …
Is Betty ready to fall in love? Will she finally have her first kiss?
I absolutely love this series. Jenny McLachlan's
Flirty Dancing
sucked me in roughly a year ago, and when
Love Bomb
landed on my doorstep I was eager to step back into the world of the Ladybirds. This did not disappoint. This book is even more fun than
Flirty Dancing
and I really felt like I could empathise with Betty so much!
I love that these books encapsulate all that it is to be a teenager. All of the emotions that explode through the pages are ones that will be oh so familiar to everyone reading. We've all had that all encompassing feeling of 'love' for our first crushes - I found myself laughing out loud and Betty's melodrama but completely understanding at the same time. Betty is by far my favourite character so far. She's so entertaining - I loved her! But even though this book has many laughs, I liked that Jenny McLachlan touched on how tough it can be to grow up without a mother. Some moments were so heartfelt and I just found myself wanting to bundle Betty up and look after her!
Love Bomb
is a fantastic read - go grab yourselves a copy! :)