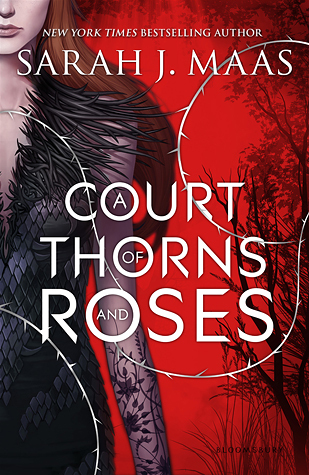 Title:
A Court of Thorns and Roses
Author:
Sarah J. Maas
Series:
A Court of Thorns and Roses #1
Publisher:
Bloomsbury
Source:
Review Copy
Publication Date:
5th May 2015
A thrilling, seductive new series from New York Timesbestselling author Sarah J. Maas, blending Beauty and the Beast with faerie lore.
When nineteen-year-old huntress Feyre kills a wolf in the woods, a beast-like creature arrives to demand retribution for it. Dragged to a treacherous magical land she only knows about from legends, Feyre discovers that her captor is not an animal, but Tamlin—one of the lethal, immortal faeries who once ruled their world.
As she dwells on his estate, her feelings for Tamlin transform from icy hostility into a fiery passion that burns through every lie and warning she's been told about the beautiful, dangerous world of the Fae. But an ancient, wicked shadow grows over the faerie lands, and Feyre must find a way to stop it . . . or doom Tamlin—and his world—forever.
I was very, VERY excited to get this book in the post. As most of you probably know, I am a huge Sarah J. Maas fan, so the thought of a new series had me almost ready to blow my top. I was beyond excited, and with
Beauty and the Beast
being one of my absolute favourites, I was very excited to see where this book was going to go. I'll admit however, going into it I was a little concerned with how the sexier sides of this book was going to play out - I think it's quite difficult to write a good sex scene so this was something I was praying wouldn't be all to cringy. I was worrying over nothing as per usual!
The world Maas has created is once again so three dimensional and beautiful that I could lose myself in it for days. I love escaping into her words; she always manages to take us on an epic adventure. Feyre was such a likeable character. She had such deep inner strength and I really admired her for embracing her own mortality. I liked that she was aware of how the odds were stacked against her. I loved how very
real
a character she was. The only downside is that we didn't get to learn all that much about Tamlin; someone I'm very much interested in learning more about.
A Court of Thorns and Roses
is a strong introduction to what promises to be another wonderful series by Sarah J. Maas. I'll admit that I wasn't as taken with it as I am with the
Throne of Glass
series. It fell just a little short of Celaena Sardothien's kickass adventures for me. I still really enjoyed this book though and am very excited to see where the series will take us! I think it's planned to be a trilogy so far so really looking forward to seeing Feyre's future pan out in the next books. An exciting, lusty read that is guaranteed to have you hooked from the word go!