Today the lovely Jenny McLachlan, author of Flirty Dancing and Love Bomb is here today to talk about her latest narrator, Betty.
I always listen to music when I write. Rather than distracting me, it acts as a shortcut into a scene and my narrator's voice. I had six months to write Love Bomb and I was also working full time as a head of English at a secondary school and I had two little girls. I had to write whenever I had a moment and I carried my tiny laptop everywhere. Listening to music was a quick way of jumping into back into Betty's world and cutting off from the real world.
One song in particular helped me to write Love Bomb: Bettye Swann's 'Then You Can Tell Me Goodbye'. Slightly confusingly, Betty is also the name of Love Bomb's fifteen-year-old narrator. Bettye: 60s blues and soul singer; Betty: fictitious fifteen-year-old. Got it? Oh, and to get in the Love Bomb groove, it might help if you listen to the song:
www.youtube.com/watch?v=HaPKZHpnAx4
The moment I hear the opening notes, I'm instantly in Betty's mind - epic silent dancing, eating doughnuts and lacing up yellow DMs. When I planned Love Bomb, Bettye Swannn didn't feature, but one day, as I was typing away, iPod shuffle started to play 'Then You Can Tell Me Goodbye'. Funny, I thought, this is Bettye Swann and my narrator is called Betty. Then I had one of those lovely writing moments when a swirl of ideas come together like the last few pieces of a jigsaw puzzle. It began when I realised Betty's mum, Lorna, could have named her after the singer Bettye and by the time the song had finished I'd created an entire 60's girl-band back-story for Lorna, made Betty inherit her mum's awesome (new) singing skills and changed Love Bomb's ending…and a lot of the start and middle too.
Soon, it was hard to imagine Betty without Bettye. Although Bettye Swann sang the blues, her songs are infused with hope, making her music perfect listening for a teenager experiencing the highs and lows of first love. Also, like Betty's mum, the real Bettye was 'missing' for many years when she disappeared from public life.
Towards the end of Love Bomb, Betty's best friend, Bill, shares a bit of Shakespeare with her: 'So long as men can breathe, or eyes can see, So long lives this and this gives life to thee'. These words always give me goose bumps and I'm fascinated by the almost magical power that words and music have to transcend time. Even though Bettye's songs were recorded over thirty years ago, they feel alive and vibrant; similarly, when Betty reads her mum's hidden letters, she feels the words 'whispered' in her ear and for the first time in her life she 'has a mum'.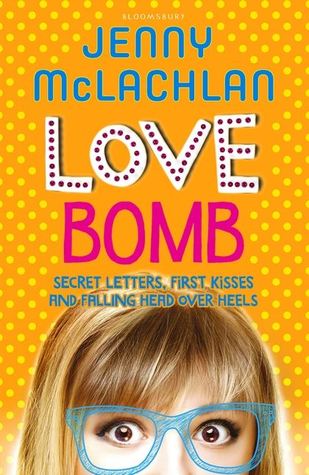 Title:
Love Bomb
Author:
Jenny McLachlan
Series:
The Ladybirds #2
Publisher:
Bloomsbury
Publication Date:
12th March 2015
Perfect Valentine's reading for fans of Geek Girl and Louise Rennison.
Betty Plum has never been in love. She's never even kissed a boy. But when H.O.T. Toby starts school it's like Betty has been hit with a thousand of Cupid's arrows. It's like a bomb has exploded – a love bomb!
More than ever Betty wishes her mum hadn't died when Betty was a baby. She really needs her mum here to ask her advice. And that's when she finds hidden letters for just these moments. Letters about what your first kiss should feel like and what real love is all about …
Is Betty ready to fall in love? Will she finally have her first kiss?