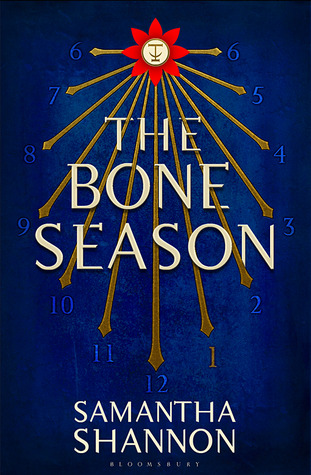 Title:
The Bone Season
Author:
Samantha Shannon
Series:
The Bone Season #1
Publisher:
Bloomsbury
Source:
Bought
Publication Date:
20th August, 2013
It is the year 2059. Several major world cities are under the control of a security force called Scion. Paige Mahoney works in the criminal underworld of Scion London, part of a secret cell known as the Seven Seals. The work she does is unusual: scouting for information by breaking into others' minds. Paige is a dreamwalker, a rare kind of clairvoyant, and in this world, the voyants commit treason simply by breathing.
But when Paige is captured and arrested, she encounters a power more sinister even than Scion. The voyant prison is a separate city—Oxford, erased from the map two centuries ago and now controlled by a powerful, otherworldly race. These creatures, the Rephaim, value the voyants highly—as soldiers in their army.
Paige is assigned to a Rephaite keeper, Warden, who will be in charge of her care and training. He is her master. Her natural enemy. But if she wants to regain her freedom, Paige will have to learn something of his mind and his own mysterious motives.
The Bone Season
is a book that I've had for the longest time. I bought it back in 2013 when it was published and have only just got round to it. The upcoming publication of
The Mime Order
was the exact kick that I needed to get around to reading it and I'm really glad that I did! This book is something completely new and original to me. The world building is so detailed and the characters are so very three dimensional. I feel like I personally know Paige and all of her struggles. Samantha Shannon has produced such a strong debut - one that easily has you wanting more from the world.
Voyants isn't something that I have ever been fully interested in. Back when I read Kelley Armstrong's
Women of the Otherworld
series, they were always my least favourite aspects. I could never quite click with them.
The Bone Season
was completely different to that. The voyant aspect is central but it isn't something that takes center stage at the same time. The politics that are underlying in this world are fascinating and I'm looking forward to finding out more. I loved the concept of the Rephaim and there is something oh so mysterious and intriguing about Warden. Bring on more!
Samantha Shannon has created an exciting and captivating world in her debut. She's created a strong platform to build on and
The Bone Season
is definitely a series that I will be keeping an eye on. Bring on the rest of the books!