Today I have the lovely Vanessa Lafaye on the blog as part of her Summertime blog tour.
Top 10 Books Which Put the Place on the Map
Vanessa Lafaye, debut author of
SUMMERTIME
(Orion, Jan 15th) reveals her top 10 books which put their settings on the map.
Midnight in the Garden of Good and Evil - John Berendt
Sleepy Savannah, Georgia experienced a flood of visitors following the 'Midnight Trail', and I'd so love to go.

Captain Corelli's Mandolin - Louis de Bernières
The lush descriptions of Cephalonia produced a surge in tourism to the Greek island


Midnight's Children - Salman Rushdie
My first exposure to fiction about India, followed by many more

The No 1 Ladies Detective Agency - Alexander McCall Smith
Mme Ramotswe introduced me to Botswana

A Thousand Acres - Jane Smiley
The vast, lonely emptiness of the American Midwest looms over the story

A Year in Provence - Peter Mayle
This novel started a trend in location memoirs which drew holiday makers in search of lavender fields

All Creatures Great and Small - James Herriot
Yorkshire and its animals were the stars of this book series for me

Vampire Chronicles - Anne Rice
Long before Twilight, Rice made vampires sexy, and New Orleans provided the perfect mix of decadence and decay; it's also been the home of Lafayes for generations

The Kite Runner - Khaled Hosseini
One of the first works of popular fiction to illuminate life in Afghanistan

The Thorn Birds - Colleen McCulloch
Some of the scenes of Australia are still vivid in my memory
Based on real events, SUMMERTIME is a stunning debut novel, a glorious love story and a mesmerizing account of survival. It evokes vividly what happens when people in a small community are tested to the absolute limits of their endurance.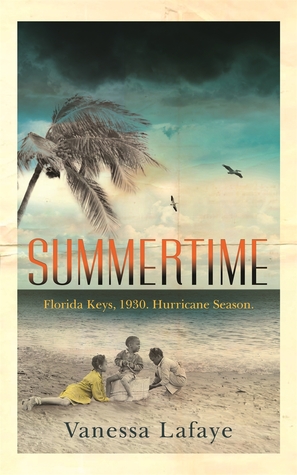 Title:
Summertime
Author:
Vanessa Lafaye
Series:
None
Publisher:
Orion
Publication Date:
15th January, 2015
Horrifying and beautiful, Summertime is a fictionalised account of one of the most devastating natural disasters in US history.
Florida Keys, 1935. Hurricane Season.
Tens of thousands of black and white men scarred by their experiences of war in Europe return home to find themselves abandoned to destitution by the US government.
The tiny, segregated community of Heron Key is suddenly overwhelmed by broken, disturbed men with new ideas about racial equality and nothing left to lose.
Tensions fl are when a black veteran is accused of committing the most heinous crime of all against a white resident's wife.
And not far off the strongest and most intense hurricane America has ever witnessed is gaining force.
For fans of The Help and To Kill a Mockingbird, this is the story of the greatest tragedy you've never heard of.