Hi guys and welcome to another stop of The Mime Order's blog tour! I'm delighted to share a post with you today, my review and offer up an ARC of The Mime Order for a giveaway. Rules will be below. I hope you enjoy!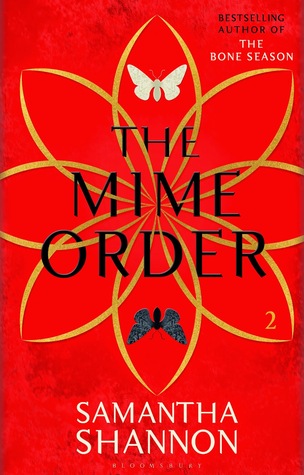 Title:
The Mime Order
Author:
Samantha Shannon
Series:
The Bone Season #2
Publisher:
Bloomsbury
Source:
Review Copy
Publication Date:
27th January 2015
Paige Mahoney has escaped the brutal penal colony of Sheol I, but her problems have only just begun: many of the fugitives are still missing and she is the most wanted person in London.
As Scion turns its all-seeing eye on Paige, the mime-lords and mime-queens of the city's gangs are invited to a rare meeting of the Unnatural Assembly. Jaxon Hall and his Seven Seals prepare to take center stage, but there are bitter fault lines running through the clairvoyant community and dark secrets around every corner.
Then the Rephaim begin crawling out from the shadows. But where is Warden? Paige must keep moving, from Seven Dials to Grub Street to the secret catacombs of Camden, until the fate of the underworld can be decided. Will Paige know who to trust? The hunt for the dreamwalker is on.
The Mime Order is a fantastic sequel to The Bone Season. It had taken me so long to pick up the first book and for the first time I feel quite happy about that. It meant I got to devour the both of them together and it was so good. The Mime Order has even more action, excitement and violence than the first and boy are the politics getting good. I loved seeing Paige develop and really come into her own in this book. We see her disobeying Jaxon more and more and things are really heating up in Scion. Paige is finding it hard to get warnings out about the Rephaim and tensions are running so high. It makes for a pretty exciting read!
The Mime Order picks up where The Bone Season finished. The events flow seamlessly and there's no need to play catch-up between books. Paige is attempting to readjust to life in Scion and is battling against going back to Jaxon. I loved her in this book. She was so fierce and determined to do anything she could to draw the Rephaim to everyone's attention. Even though I love Paige, I found myself itching to hear more from Warden. I still long to learn more about him and his world and I really hope we get to find out more in the next books. Not only him, but the Rephaim generally. I want more of an insight into our villains and I'm really excited to see where Samantha Shannon is going to take this series.
The Mime Order puts into action so many different things and I'm feeling really excited about the next book. This one has a pretty epic ending which will leave you BEGGING for the next book - I can't wait to see what you all think about it! This book is fast-paced, thrilling and addictive; I could not put it down. Give me more Scion!
Giveaway
Prize is 1 ARC copy of The Mime Order by Samantha Shannon
Open to residents of the UK and EU only.
Fill in the Rafflecopter form below to enter.
I reserve the right to disqualify any rule breakers.
The winner has 48 hours to respond to my email otherwise a new winner will be chosen
a Rafflecopter giveaway
THE TOUR