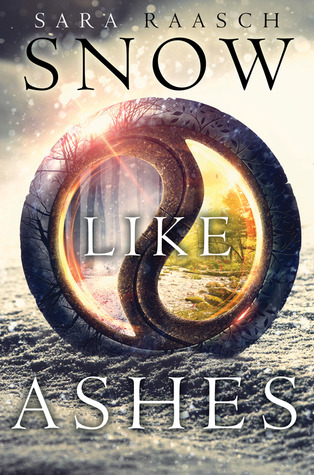 Title:
Snow Like Ashes
Author:
Sara Raasch
Series:
Snow Like Ashes #1
Publisher:
Harper 360
Source:
Review Copy
Publication Date:
4th December, 2014
A heartbroken girl. A fierce warrior. A hero in the making.
Sixteen years ago the Kingdom of Winter was conquered and its citizens enslaved, leaving them without magic or a monarch. Now, the Winterians' only hope for freedom is the eight survivors who managed to escape, and who have been waiting for the opportunity to steal back Winter's magic and rebuild the kingdom ever since.
Orphaned as an infant during Winter's defeat, Meira has lived her whole life as a refugee, raised by the Winterians' general, Sir. Training to be a warrior—and desperately in love with her best friend, and future king, Mather — she would do anything to help her kingdom rise to power again.
So when scouts discover the location of the ancient locket that can restore Winter's magic, Meira decides to go after it herself. Finally, she's scaling towers, fighting enemy soldiers, and serving her kingdom just as she's always dreamed she would. But the mission doesn't go as planned, and Meira soon finds herself thrust into a world of evil magic and dangerous politics – and ultimately comes to realize that her destiny is not, never has been, her own.
Move on over fantasy books of the past, I have a new favourite! I absolutely adored Snow Like Ashes. I mean, fell head over heels want to hug it to my chest and read again and again adored it. How on earth is this a debut?! Sara Raasch is so incredibly talented and the world she's created within this book is so flawless, so perfect - I can't get enough of it! I'm already stalking down book #2 and praying that some kind soul will drop an ARC on my head pre whatever month it's out. THERE ISN'T EVEN A MONTH YET *Curls up into a ball and cries*. I heard somewhere, can't remember where, that the fandom is Winterians. Well, count me in! This is a new fandom that I am more than happy to be a part of.

It's the first time in a long time that I have loved every character in a book. I loved to hate the villains, and loved to love the heroes. There is a mild love triangle but it doesn't take long to break and ohhh my god Meira has chosen the right one. Meira is so unbelievably badass; she gives Celaena Sardothien a run for her money! I loved learning about this gorgeous new world; it's so rich, so stunning and so detailed that you can't help but fall head first into it. It's a shock coming back out of the pages of Snow Like Ashes. It's one of those books that you cannot stop reading but you don't want to end at the same time. I was so fully immersed and I cannot wait to go back.

There is one major plot twist in this book that I did not see coming. I was curious as to how things were going to play out and suspected a few things, but one of the revelations completely blew me away. It's made me so eager to get into the second book. I'm gutted that this is a trilogy. I could happily live in the world for so many more books. I'm praying for a novella or something to tie us over until the release of the second book. If you're still fighting your Goodreads Challenge for this year, get onto Snow Like Ashes now! I can't wait to flail with others over this book.