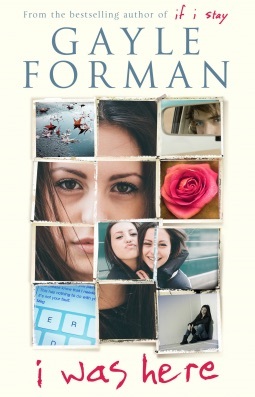 Title:
I Was Here
Author:
Gayle Forman
Series:
None
Publisher:
Simon & Schuster
Source:
Review Copy
Publication Date:
29th January, 2015
From the bestselling author of If I Stay - this summer's YA blockbuster film.

This characteristically powerful novel follows eighteen-year-old Cody Reynolds in the months following her best friend's shocking suicide.
As Cody numbly searches for answers as to why Meg took her own life, she begins a journey of self-discovery which takes her to a terrifying precipice, and forces her to question not only her relationship with the Meg she thought she knew, but her own understanding of life, love, death and forgiveness.
A phenomenally moving story, I Was Here explores the sadly all-too-familar issue of suicide and self-harm, addressing it with it sensitivity, genuity and honesty.
Is it just me, or do you guys feel a little awkward after enjoying a book that discusses suicide? I don't think
enjoying
is the right word to use, but you know what I mean. I find books that talk about suicide and mental health so hard-hitting; they just blow me away. I don't know if that's because I personally deal with anxiety but there's just something so powerful about them.
I Was Here
is no different. Gayle Forman has produced such a deep and moving tale of friendship, loss and betrayal. It is definitely a painful read but it's so, so powerful at the same time.
Watching Cody discover more and more about the side of Meg that she didn't know is so tear-jerking and I found myself just wishing that Meg had opened up to someone that could truly help.
I Was Here
draws attention to some pretty horrendous things that exist that take advantage of those that are mentally unwell. I am so glad that Forman addresses these things and shows so many different sides to it. There isn't a whole lot I can say about it in the review without spoilers, but I truly think that the issue of mental health is shown so tactfully and empathetically in this book. Seeing Cody, Meg's parents and other friends of Meg's lives following her suicide is so heart-wrenching and I found myself wondering how on earth I would cope with such a situation myself.
I Was Here
is the perfect read in so many ways. It's thought provoking, it's emotional and it takes you on one hell of a journey. My only problem with it was that there
did not
need to be any romance in this book. It didn't add anything to the story. I felt a little uncomfortable with it in all honesty. This is something I'd love to talk about post-release date and with people who have read it. It just didn't sit right with me. Other than that,
I Was Here
was absolutely flawless.
This book floored me 100%. It's the type of book that leaves you feeling so drained afterwards but with plenty of thoughts circulating. It's not just a story of friendship, of love and of loss, but it shows the difference in families, in how things work and how even the most perfect appearances can hide something so terrible.
I Was Here
is so powerful, so emotional and I can't wait to see what you all think of it.