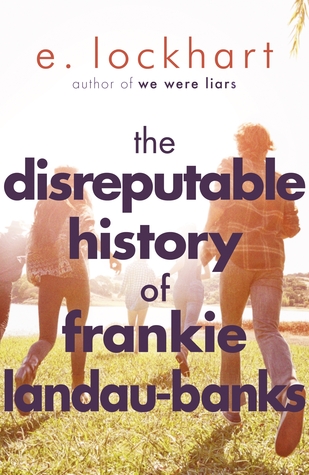 Title:
The Disreputable History of Frankie Landau-Banks
Author:
E. Lockhart
Series:
None
Publisher:
Hot Key Books
Source:
Review Copy
Publication Date:
6th November, 2014
Fifteen-year-old Frankie Landau-Banks has grown up a lot over the summer. She's no longer daddy's little girl - and almost immediately after starting the new semester at her highly prestigious school, she bags goofy-but-gorgeous Matthew Livingston as her boyfriend. They get along great but then Frankie discovers that Matthew is a member of a boys-only secret society that specialise in 'hilarious' pranks. Which hardly seems fair... especially when Frankie knows she's smarter than any of its members. And to prove this, she's going to teach them a lesson.
Erm. I'm not sure what to make of this book. Other reviews made it sound like something I would love. A sort of feminist, all-empowering piece of work. To be honest, it fell short of that for me. I didn't find it all that empowering. I found it all a little extreme. It took me awhile to get into the book, there were parts where I was hooked and found myself thinking yes! This is where we get going. That came in peaks though and I found myself rolling my eyes at a lot of Frankie's internal thoughts.
I gave it 2.5** because I did enjoy it for the pranks, the hidden society and some of Frankie's dialogue. Sometimes she was so clever and likeable, other time I just wanted to shake her. I'm not sure if it's because I've studied literature based on gender for a few years now, but this just didn't sit right. It was too juvenile. The characters frustrated me and there wasn't really anything that I grasped and thought yes, that's the plot line. I'll admit though I had some trepidation going into the book. It took me awhile to get into We Were Liars but it did blow me away in the end. Frankie Landau-Banks didn't pack that same punch for me, unfortunately.
I think I just feel disappointed. I really wanted to love this book but it didn't work out for me. I didn't connect with the characters or the events. It was all a little ridiculous in places and I just couldn't jell with it. It just wasn't my cup of tea.