Today I thought I'd do a quick post on bookish gift ideas for those that you love! Today's one is going to be a book-based guide, with something a little different tomorrow.
For the Fantasy Lover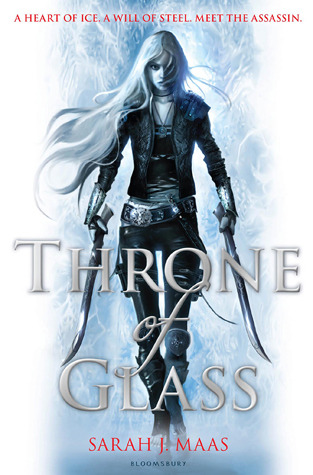 Title:
Throne of Glass
Author:
Sarah J. Maas
Series:
Throne of Glass #1
Buy from The Book Depository
Meet Celaena Sardothien.

Beautiful. Deadly.
Destined for greatness.
In the dark, filthy salt mines of Endovier, an eighteen-year-old girl is serving a life sentence. She is a trained assassin, the best of her kind, but she made a fatal mistake: she got caught.
Young Captain Westfall offers her a deal: her freedom in return for one huge sacrifice. Celaena must represent the prince in a to-the-death tournament—fighting the most gifted thieves and assassins in the land. Live or die, Celaena will be free. Win or lose, she is about to discover her true destiny. But will her assassin's heart be melted?
Title: Red Rising
Author: Pierce Brown
Series: Red Rising Trilogy #1
Ender's Game meets The Hunger Games in this, the first in an extraordinary trilogy from an incredible new voice.
Darrow is a Helldiver, one of a thousand men and women who live in the vast caves beneath the surface of Mars, generations of people who spend their lives toiling to mine the precious elements that will allow the planet to be terraformed. Just knowing that, one day, people will be able to walk the surface of the planet is enough to justify their sacrifice. The Earth is dying, and Darrow and his people are the only hope humanity has left.
Until the day Darrow learns that it is all a lie. That Mars has been habitable - and inhabited - for generations, by a class of people calling themselves the Golds. A class of people who look down at Darrow and his fellows as slave labour, to be exploited and worked to death without a second thought.
Until the day Darrow, with the help of a mysterious group of rebels, disguises himself as a Gold and infiltrates their command school, intent on taking down his oppressors from the inside.
But the command school is a battlefield - and Darrow isn't the only student with an agenda.
For the Romantic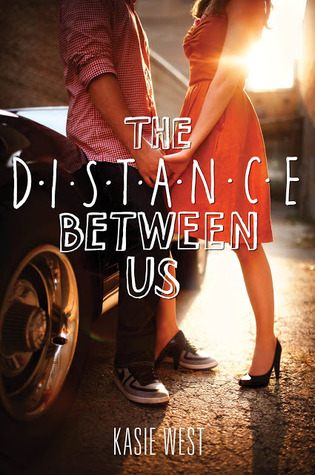 Title:
The Distance Between Us
Author:
Kasie West
Series:
None
Buy it from The Book Depository
Seventeen-year-old Caymen Meyers studies the rich like her own personal science experiment, and after years of observation she's pretty sure they're only good for one thing—spending money on useless stuff, like the porcelain dolls in her mother's shop.
So when Xander Spence walks into the store to pick up a doll for his grandmother, it only takes one glance for Caymen to figure out he's oozing rich. Despite his charming ways and that he's one of the first people who actually gets her, she's smart enough to know his interest won't last. Because if there's one thing she's learned from her mother's warnings, it's that the rich have a short attention span. But Xander keeps coming around, despite her best efforts to scare him off. And much to her dismay, she's beginning to enjoy his company.
She knows her mom can't find out—she wouldn't approve. She'd much rather Caymen hang out with the local rocker who hasn't been raised by money. But just when Xander's attention and loyalty are about to convince Caymen that being rich isn't a character flaw, she finds out that money is a much bigger part of their relationship than she'd ever realized. And that Xander's not the only one she should've been worried about.
Title: The Book of You
Author: Claire Kendal
Series: None
A terrifying psychological thriller about obsession and power, perfect for fans of Gone Girl and Before I Go to Sleep.
Clarissa is becoming more and more frightened of her colleague, Rafe. He won't leave her alone, and he refuses to take no for an answer. He is always there.
Being selected for jury service is a relief. The courtroom is a safe haven, a place where Rafe can't be. But as a violent tale of kidnap and abuse unfolds, Clarissa begins to see parallels between her own situation and that of the young woman on the witness stand.
Realizing that she bears the burden of proof, Clarissa unravels the twisted, macabre fairytale that Rafe has spun around them – and discovers that the ending he envisions is more terrifying than she could have imagined.
But how do you protect yourself from an enemy no one else can see?
Read my review to see why you should buy it!
For the Feminist
Title:
Only Ever Yours
Author:
Louise O'Neill
Series:
None
Buy from The Book Depository
In a world in which baby girls are no longer born naturally, women are bred in schools, trained in the arts of pleasing men until they are ready for the outside world. At graduation, the most highly rated girls become "companions", permitted to live with their husbands and breed sons until they are no longer useful.
For the girls left behind, the future – as a concubine or a teacher – is grim.
Best friends Freida and Isabel are sure they'll be chosen as companions – they are among the most highly rated girls in their year.
But as the intensity of final year takes hold, Isabel does the unthinkable and starts to put on weight. ..
And then, into this sealed female environment, the boys arrive, eager to choose a bride.
Freida must fight for her future – even if it means betraying the only friend, the only love, she has ever known. . .
Title: About a Girl
Author: Lindsey Kelk
Series: Tess Brookes/ A Girl #1
I'd lost my job. I'd lost the love of my life. My mum wasn't talking to me. My best friend was epically pissed off. And my flatmate probably had a hit out on me by now. I never meant for things to get so out of hand…
Tess Brookes has always been a Girl with a Plan. But when her carefully constructed Plan goes belly up, she's forced to reconsider.
After accidently answering her flatmate Vanessa's phone, she decides that since being Tess isn't going so well, why shouldn't she try out being Vanessa? With nothing left to lose, she accepts Vanessa's photography assignment to Hawaii – she used to be an amateur snapper, how hard can it be? Right?
But Tess is soon in big trouble – she isn't a photographer, she isn't Vanessa, and the gorgeous journalist on the shoot with her, who is making it very clear he'd like to get into her pants, is an egotistical monster.
Far from home and in someone else's shoes, Tess must decide whether to fight on through, or 'fess up and run…
Read my review to see why you should buy it!
For the Historian
Title:
The Miniaturist
Author:
Jessie Burton
Series:
None
Buy from The Book Depository
On a brisk autumn day in 1686, eighteen-year-old Nella Oortman arrives in Amsterdam to begin a new life as the wife of illustrious merchant trader Johannes Brandt. But her new home, while splendorous, is not welcoming. Johannes is kind yet distant, always locked in his study or at his warehouse office-leaving Nella alone with his sister, the sharp-tongued and forbidding Marin.
But Nella's world changes when Johannes presents her with an extraordinary wedding gift: a cabinet-sized replica of their home. To furnish her gift, Nella engages the services of a miniaturist-an elusive and enigmatic artist whose tiny creations mirror their real-life counterparts in eerie and unexpected ways . . .
Johannes' gift helps Nella to pierce the closed world of the Brandt household. But as she uncovers its unusual secrets, she begins to understand-and fear-the escalating dangers that await them all. In this repressively pious society where gold is worshipped second only to God, to be different is a threat to the moral fabric of society, and not even a man as rich as Johannes is safe. Only one person seems to see the fate that awaits them. Is the miniaturist the key to their salvation . . . or the architect of their destruction?
Enchanting, beautiful, and exquisitely suspenseful, The Miniaturist is a magnificent story of love and obsession, betrayal and retribution, appearance and truth.
Title: Eleanor & Park
Author: Rainbow Rowell
Series: None
Eleanor is the new girl in town, and with her chaotic family life, her mismatched clothes and unruly red hair, she couldn't stick out more if she tried.
Park is the boy at the back of the bus. Black T-shirts, headphones, head in a book - he thinks he's made himself invisible. But not to Eleanor... never to Eleanor.
Slowly, steadily, through late-night conversations and an ever-growing stack of mix tapes, Eleanor and Park fall for each other. They fall in love the way you do the first time, when you're young, and you feel as if you have nothing and everything to lose.
Read my review to see why you should buy it!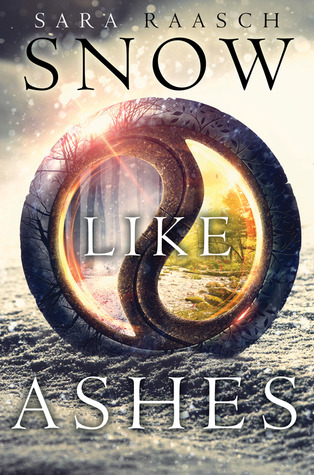 Title:
Snow Like Ashes
Author:
Sara Raasch
Series:
Snow Like Ashes #1
Buy from The Book Depository
A heartbroken girl. A fierce warrior. A hero in the making.

Sixteen years ago the Kingdom of Winter was conquered and its citizens enslaved, leaving them without magic or a monarch. Now, the Winterians' only hope for freedom is the eight survivors who managed to escape, and who have been waiting for the opportunity to steal back Winter's magic and rebuild the kingdom ever since.

Orphaned as an infant during Winter's defeat, Meira has lived her whole life as a refugee, raised by the Winterians' general, Sir. Training to be a warrior—and desperately in love with her best friend, and future king, Mather — she would do anything to help her kingdom rise to power again.

So when scouts discover the location of the ancient locket that can restore Winter's magic, Meira decides to go after it herself. Finally, she's scaling towers, fighting enemy soldiers, and serving her kingdom just as she's always dreamed she would. But the mission doesn't go as planned, and Meira soon finds herself thrust into a world of evil magic and dangerous politics – and ultimately comes to realize that her destiny is not, never has been, her own.
Title: The Ice Dragon
Author: George R. R. Martin
Series: None
An enchanting tale of courage and sacrifice for young readers and adults by the wildly popular George R.R. Martin, author of A Song of Ice and Fire, the series that inspired HBO's Emmy Award-winning GAME OF THRONES.

Lavish illustrations by acclaimed artist Luis Royo enrich this captivating and heartwarming story of a young girl and her dragon.

In the world of A Song of Ice and Fire the ice dragon was a creature of legend and fear, for no man had ever tamed one. When it flew overhead, it left in its wake desolate cold and frozen land. But Adara was not afraid. For Adara was a winter child, born during the worst freeze that anyone, even the Old Ones, could remember.

Adara could not remember the first time she had seen the ice dragon. It seemed that it had always been in her life, glimpsed from afar as she played in the frigid snow long after the other children had fled the cold. In her fourth year she touched it, and in her fifth year she rode upon its broad, chilled back for the first time. Then, in her seventh year, on a calm summer day, fiery dragons from the North swooped down upon the peaceful farm that was Adara's home.

And only a winter child-and the ice dragon who loved her-could save her world from utter destruction