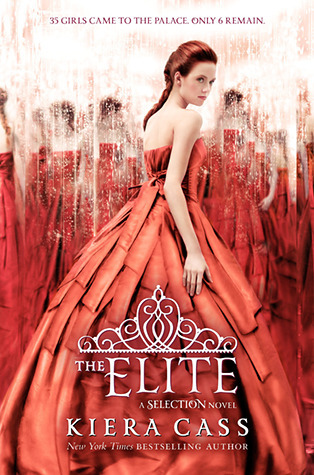 Title:
The Elite
Author:
Kiera Cass
Series:
The Selection #2
Publisher:
Harper Collins
Source:
Review Copy
Publication Date:
23rd April, 2013
Thirty-five girls came to the palace to compete in the Selection. All but six have been sent home. And only one will get to marry Prince Maxon and be crowned princess of Illea.

America still isn't sure where her heart lies. When she's with Maxon, she's swept up in their new and breathless romance, and can't dream of being with anyone else. But whenever she sees Aspen standing guard around the palace, and is overcome with memories of the life they planned to share. With the group narrowed down to the Elite, the other girls are even more determined to win Maxon over—and time is running out for America to decide.

Just when America is sure she's made her choice, a devastating loss makes her question everything again. And while she's struggling to imagine her future, the violent rebels that are determined to overthrow the monarchy are growing stronger and their plans could destroy her chance at any kind of happy ending.
Ahhh I love this series so much.
The Elite
was filled with so much drama and tension with just six girls left in The Selection. I felt my jaw hit the floor on so many occasions. It was impossible to put down and the characters carry you through their journey so well. I'll admit that America annoyed me a little bit in this one though. Her back and forth and explosions, although justified, were also a little draining at times. Maxon was a bit of an arse on a few occasions too. Despite this they are so painfully perfect for each other and I found myself rooting for them despite everything that unfolds.
I really think that this is such a beautifully written series. I was ensnared by Kiera Cass' writing style and I can't imagine that that will change any time soon. This world that she has created is so magical yet so political and cold. With the constant threat of rebels intruding on the palace, tensions are constantly running high and emotions are flying everywhere. The harsh world of war and politics was nicely balanced out by the romance and it made it all that sweeter when things
did
go to plan. I've been Team Maxon from the word go, so I was overjoyed whenever he made an appearance and entirely miffed by Aspen. Poor soul, he didn't do anything but I felt that he'd had his chance!
The Elite
is a perfect sequel to a truly dynamic series. The characters jump right out of the page and they feel so very real to me. This series would make the most perfect TV series. I long for them to make it into one. I just really don't think they'll do the images in my mind justice. This was such a powerful and emotion packed book. Bring on
The One!