Today I have the lovely Ryan Graudin on the blog with a very special and unique guest post. Ryan has given us an inside into her three protagonists, Jin Ling, Dai and Mei Yee through quotes and why these quotes reflect their character.
I went through
THE WALLED CITY
and picked out quotes that help explain each of my three main characters! They're all very different, but each has an integral role in the novel.
Jin Ling: "I can stab a man, but I can't let one die. Not on my watch."
Jin Ling, as you can tell from this quote, is a fighter. She has to be, to live on the streets of the Hak Nam Walled City, which one of my other character's describes as "A recipe of humanity's darkest ingredients—thieves, murderers, addicts—all mashed into six and a half acres of land." Jin Ling disguises herself as a boy to survive and spends her days stealing food, earning money through drug runs, and searching the Walled City's many brothels for her older sister, Mei Yee. Though she's tough as nails, she also has a soft side, which only comes out around her sister and her cat, Chma. Though her mantra for survival in the Walled City is, "Run fast. Trust no one. Always carry your knife," she is very lonely, and starts, out of sheer necessity, to trust one of the most mysterious figures in the Walled City: a boy named Dai…
Dai: "I don't believe in ghosts. Not like my grandmother, who knelt at our ancestral shrine every dawn with smoking sticks of incense folded in her palm and offerings of rice liquor and oranges tucked in her pockets. I always thought it was stupid, wasting fruit and good booze on the dead. Those who were long silent and gone. He haunts me anyway."
Dai is not all he seems. The eighteen-year-old boy rarely talks about his past, even with himself. But two things are obvious: he does not belong in the Walled City, and his past holds a lot of pain. He tends to be irreverent, or at least jaded, which works to his advantage when he's coordinating drug runs for the Brotherhood of the Red Dragon. He doesn't need the money from these drug runs (as Jin Ling notes, his jeans are untorn, his black hoodie clean). What he needs is much more dangerous and trapped inside Longwai's brothel headquarters. It is something Dai will risk anything and everything to get, including the lives of a street boy named Jin, and the beautiful girl behind the window…
Mei Yee: "I don't want to tell this boy my name. Too many people have stolen it, used it in ways I never intended. You never know what a fragile thing a name is until it's used as a weapon, screamed like a curse."
Mei Yee has spent the past two years trapped inside a brothel, after being sold by her own father. There is a window in her room, the only one in the entire brothel, which she likes to stare out of, dreaming of the outside world and an escape that seems out of reach. But one night her dreams materialize into the face of a boy. A boy who promises escape. A boy who asks her name. But Mei Yee, as the quote above shows us, is too scarred to trust this boy with her name, much less agree to his elaborate plan to escape. Still, she doesn't have the heart to shun him altogether…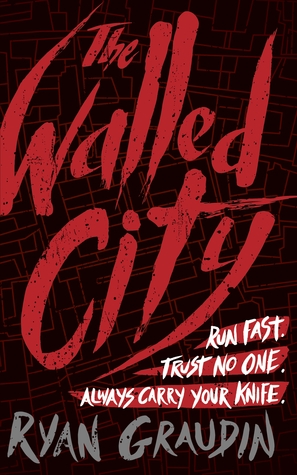 Title:
The Walled City
Author:
Ryan Graudin
Series:
None
Publisher:
Indigo Books
Publication Date:
6th November, 2014
Disguised as a boy, Jin Ling searches for her missing sister, Mei Yee, who was sold into the brothels of the Walled City. She relies on her speed and cunning but how long will her luck hold?

When a mysterious boy, Dai, requests her help with a dangerous mission Jin Ling's inclined to say no - this is a world where no one can be trusted - but the mission offers her a vital chance to see inside the brothel where her sister may be being held.
Jin Ling and Dai join forces, but will either of them survive the mission? Is Mei Yee still alive? And how will any of them ever escape the stifling city walls?
"It's been a long time since I read a book that is so exciting, heart-wrenching, gut-churning and thrilling. I'm overwhelmed by the perfection that is this book and I really can't wait for you all to read it. If you're going to read just one other book this year, please make it The Walled City."
About Ryan Graudin
Ryan Graudin was born in Charleston, South Carolina with a severe case of wanderlust. When she's not travelling, she's busy photographing weddings, writing and spending time with her husband and wolf-dog.
Ryan can be found on social media:
@ryangraudin, http://ryangraudin.tumblr.com/
and
http://www.pinterest.com/rgraudin/walls/
and via her website:
http://www.ryangraudin.com/
GIVEAWAY
Prize is 1 copy of The Walled City by Ryan Graudin
Open to residents of the UK and Ireland only.
Fill in the Rafflecopter form below to enter.
I reserve the right to disqualify any rule breakers.
The winner has 48 hours to respond to my email otherwise a new winner will be chosen