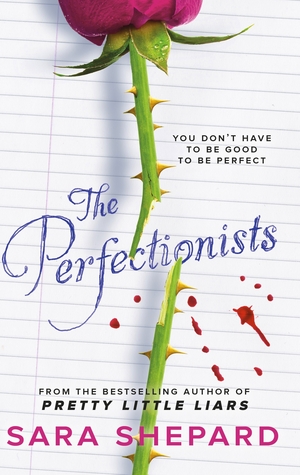 Title:
The Perfectionists
Author:
Sara Shepard
Series:
The Perfectionists #1
Publisher:
Hot Key Books
Source:
Review Copy
Publication Date:
2nd October, 2014
In Beacon Heights High, Nolan Hotchkiss is king. His charm, wealth and good looks are deceptively seductive, and many are the students whose lives and reputations have been ruined by it. All while Nolan continues to reign, unquestioned and undisrupted. Until now, that is.

Mackenzie, Ava, Julie, Caitlin and Parker seemingly don't have much in common. Each has their own friends, dramas and goals. But one thing they do share: they all have a deep hatred of Nolan Hotchkiss. And they all think it's about time he paid for what he's done. They come up with the perfect murder - a hypothetical murder, of course. It's all wishful thinking ... until they wake up one morning to find that their wish has come true. Nolan has been killed - in exactly the way they planned. The thing is, they didn't do it. So who did?
What a whirlwind of a book! This book was
even better
than I expected it to be, but nothing like I thought it would be at the same time.
The Perfectionists
is my first Sara Shepard book and I can tell you it most certainly won't be the last. I
need
the next book now, especially after that ending! I think I kind of wish they
had
done it though - imagine what kind of story that could have been?! Saying that though, I found it so interesting following them as they try and figure out who was behind Nolan's murder.
The thing I enjoyed the most was that each girl had their own individual story. Each girl had their own experience with Nolan and each had such different lives. The one I'm most fascinated by and eager to learn more about is Parker. I need to know more about her past and what these headaches mean. Sara Shepard builds up suspence so well and she has me more than curious about the next book and the characters. This book gave nothing away so I feel like I'm stuck in limbo just waiting for the next one.
The Perfectionists doesn't shy away from some controversial topics either. I'm not going to share what they are in this review because spoilers, but it's definitely an interesting turn of events! I'm currently stalking down the next book and pining for it. It's a quick and snappy read that I'd recommend to all!