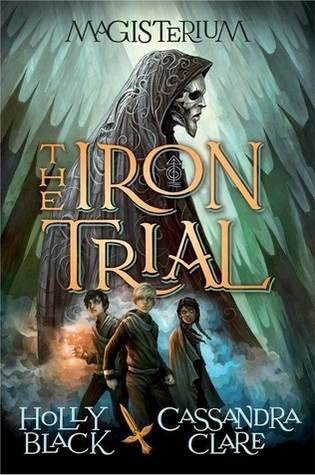 Title:
The Iron Trial
Author:
Holly Black, Cassandra Clare
Series:
The Magisterium #1
Publisher:
Random House Kids
Source:
Review Copy
Publication Date:
11th September, 2014
From NEW YORK TIMES bestselling authors Holly Black and Cassandra Clare comes a riveting new series that defies what you think you know about the world of magic.
From two bestselling superstars, a dazzling and magical middle-grade collaboration centering on the students of the Magisterium, an academy for those with a propensity toward magic. In this first book, a new student comes to the Magisterium against his will -- is it because he is destined to be a powerful magician, or is the truth more twisted than that? It's a journey that will thrill you, surprise you, and make you wonder about the clear-cut distinction usually made between good and evil.
Nothing came as more of a surprise to me than
The Iron Trial.
I first heard about it at the Random House Blogger Brunch back in June. The cover jumped out at me and when asked what one was I interested in hearing about first this was the one that came to mind. This was before I'd noticed who the authors were. It's not a secret that I'm not the biggest
TMI
fan in the world. I really didn't get on with them at all, so it made me a little hesitant towards this book. I needn't have worried, however. The combination of Holly Black's and Cassandra Clare's writing made for an exciting, snappy little read and a brilliant first book for what promises to be an addictive and action-packed series.
There's been a lot of talk about how similar this book is to
Harry Potter
and I can completely see why. There were certain elements at the beginning that screamed Potter (trio, protagonist learning about his new identity, wizarding school) but as the book developed it became more of a nod towards Potter and it's influence on the work rather than a retelling. At least that's what it seemed to me. The magic in
The Iron Trial
is based on the elements and, although there are no specific words for the spells, I found myself sucked into this world and could picture their movements and creations when casting. I found it to be a magical and captivating read. I was intrigued by the world and I'm looking forward to seeing what else there is to come from this series.
The Iron Trial
serves as the perfect introductory book to
The Magisterium
series. The world is set up and raring to go. The characters are three dimensional and completely likeable. Truths are unveiled and I'm especially curious about certain characters and how it's all going to play out. I didn't expect to enjoy this book as much as I did. I'm so glad I did because it sounded like a wonderful read and it didn't let me down in the slightest. It just goes to show that you should always try a variety of authors work to see what types of stories suit you! Bring on
The Copper Gauntlet!