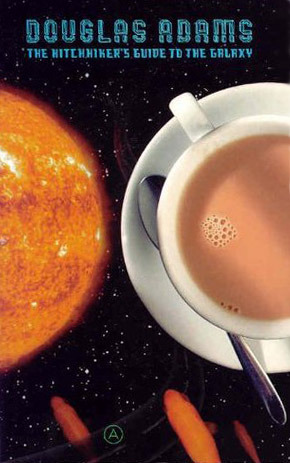 Title:
The Hitchhiker's Guide to the Galaxy
Author:
Douglas Adams
Series:
The Hitchhiker's Guide to the Galaxy #1
Publisher:
Picador
Source:
Borrowed
Publication Date:
8th March, 2002 (Edition)
One Thursday lunchtime the Earth gets unexpectedly demolished to make way for a new hyperspace bypass. For Arthur Dent, who has only just had his house demolished that morning, this seems already to be more than he can cope with. Sadly, however, the weekend has only just begun, and the Galaxy is a very strange and startling place.
I can't believe it's taken me this long to read this book. Seriously, where have I been?
The Hitchhiker's Guide to the Galaxy
is easily the strangest book I've read this year, but it's so compelling at the same time. I'm completely drawn to Arthur, Marvin and Ford. I only picked it up because my partner has been nagging me to read it for the longest time, and I can honestly say that I'm really glad I did.
I've heard this book described as funny, silly, daft and quirky, but I think there's so much more to it than that. I found it to be quite political in places and it served to me as a commentary on society. This wasn't something I expected to find in it and it drew me to it all the more. It's humorous, clever, witty - a really great read! I'm really looking forward to reading the rest of the series when I go back up North!