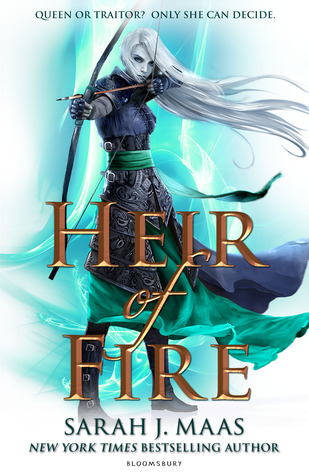 Title:
Heir of Fire
Author:
Sarah J. Maas
Series:
Throne of Glass #3
Publisher:
Bloomsbury
Source:
Review Copy
Publication Date:
11th September 2014
Lost and broken, Celaena Sardothien's only thought is to avenge the savage death of her dearest friend: as the King of Adarlan's Assassin, she is bound to serve this tyrant, but he will pay for what he did. Any hope Celaena has of destroying the king lies in answers to be found in Wendlyn. Sacrificing his future, Chaol, the Captain of the King's Guard, has sent Celaena there to protect her, but her darkest demons lay in that same place. If she can overcome them, she will be Adarlan's biggest threat – and his own toughest enemy.

While Celaena learns of her true destiny, and the eyes of Erilea are on Wendlyn, a brutal and beastly force is preparing to take to the skies. Will Celaena find the strength not only to win her own battles, but to fight a war that could pit her loyalties to her own people against those she has grown to love?
How am I going to wait another year for book #4? Seriously. This happens every single time I read about Celaena's adventures. Not only is the wait painful, but I find it so hard to wrench myself out of the absolutely spellbinding world that Sarah J. Maas creates in every single book she's written so far. I really can't get enough of this series. I'd seen a couple of negative reviews from usual lovers of the series, so I was a little concerned. I needn't have been though. Heir of Fire blew me away in the exact same way that Throne of Glass and Crown of Midnight did. I think it's probably safe to say I'm officially addicted.
Heir of Fire is much more raw than the previous two books. We're given an insight into more of Celaena's past, but we also see our heroine suffering. She isn't the same assassin that we're used to seeing in the previous books. She needs time to heal and to come to terms with what happened in Crown of Midnight, but in true Throne of Glass fashion, she isn't given this chance. Celaena is thrown straight into further conflict and training in order to avenge Nehemia and stop the King once and for all. I was on the edge of my seat for this entire book. My heart broke for Celaena so many times. I wanted to hug her and be that friend that she so desperately needed at that point. SJM succeeds in breaking us as readers as we see Celaena battle with her past and I don't think I'm quite recovered from it!
We're introduced to some absolutely amazing characters in this book too. Manon, a Blackbeak witch and leader of the Deadly Thirteen is probably one of my favourite literary characters ever. She is lethal, harsh but amazing at the same time. I'm definitely looking forward to seeing how things develop here! There isn't much more I can say without spoilers I'm afraid. Rowan, another of the faye who is a complete douchebag to Celaena is another favourite. Once again, I can't wait to see how his character develops and to see what's going to unfold between him and Celaena in the next book!
Heir of Fire
has provided so much more depth to this world. SJM has built such a vivid and realistic world with some pretty horrific creatures. I really can't wait to read more and to see how Celaena furthers her powers. I find it hard to write a review on a book that I just want to flail at. I loved it. So much. It's the type of book that you'll just pick up again and reread because you're guaranteed to get more and more out of it the more you read. Bring on book 4!