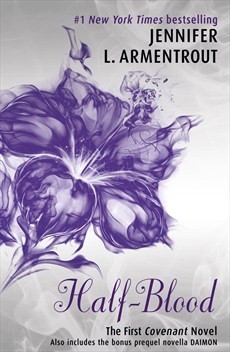 Title:
Half-Blood
Author:
Jennifer L. Armentrout
Series:
Covenant #1
Publisher:
Hodder & Stoughton
Source:
Review Copy
Publication Date:
14th August, 2014 (Originally Sept 2011)
First book in the addictive Covenant series from #1 New York Times bestselling Jennifer L. Armentrout.
HALF-BLOOD is the unputdownable first book in the acclaimed Covenant series from #1 New York Times bestselling Jennifer L. Armentrout.

The Hematoi descend from the unions of gods and mortals, and the children of two Hematoi - pure-bloods - have godlike powers. Children of Hematoi and mortals - well, not so much. Half-bloods only have two options: become trained Sentinels who hunt and kill daimons or become servants in the homes of the pures.
Seventeen-year-old Alexandria would rather risk her life fighting than waste it scrubbing toilets, but she may end up slumming it anyway. There are several rules that students at the Covenant must follow. Alex has problems with them all, but especially rule #1:
Relationships between pures and halfs are forbidden.
Unfortunately, she's crushing hard on the totally hot pure-blood Aiden. But falling for Aiden isn't her biggest problem - staying alive long enough to graduate the Covenant and become a Sentinel is. If she fails in her duty, she faces a future worse than death or slavery: being turned into a daimon, and being hunted by Aiden. And that would kind of suck.
This is my first book by Jennifer L. Armentrout and I'm now KICKING MYSELF. Where have I been? I absolutely loved this book. So, so, so much. I'm off to buy a copy of Pure soon so I can carry on my adventures with Alex, Aiden, Caleb and Seth. I am 100% hooked. In all honesty, I think the reason I'd been avoiding the books was due to the hype that surrounded them. That and I wasn't all that bothered by romance... and one last point. I knew that JLA had written a LOT of books and fairly quickly, so I'll admit I was a little worried about what they would be like. Having just finished Half-Blood I can safely say that my worries were ridiculous. This book was wonderful to read AND it's got me up and typing a review. Something that's been a huge struggle lately.
Half-Blood was nothing like I thought it would be. The blurb focuses a lot on the romance aspect of it but there's so much more depth to it than that. Alex is brought back to the Covenant three years after leaving with her mother. Things seem to be pretty similar but she has a battle on her hands. Get her fitness back up to scratch to make up for the three years she'd missed or become a slave to the pure-bloods for eternity. Having just lost her mother to the daimon's,things aren't all plain sailing for Alex and things only get more turbulent as her story progresses. Alex finds out some pretty horrendous information and we see her battle against not only real daimons, but also her own personal ones.
This book packed a punch and it was so filled with emotion, tension and excitement. It's a toughie to put down! I got ill whilst reading this or I'd have devoured it in pretty much one sitting. Thankfully, this edition contains Daimon, a prequel novella to satiate my hunger for my of this series. The characters are so well-rounded and real. I could empathise with each and every one of them. This world that JLA has created is filled with so much depth and is so three dimensional that it was a nasty shock to snap back out of it and to reality. I really cannot wait to read Pure. You guys seriously need to read this book; it's a flawless, quick and easy read, but targets some pretty heavy emotional stuff too. Perfection on a page!