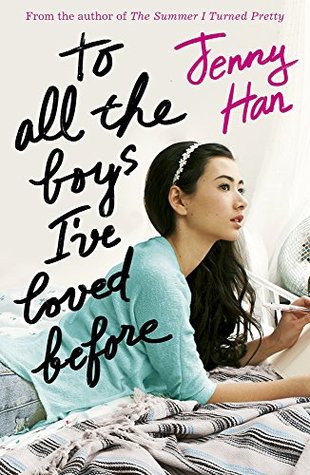 Title:
To All The Boys I've Loved Before
Author:
Jenny Han
Series:
To All The Boys I've Loved Before #1
Publisher:
Scholastic
Source:
Review Copy
Publication Date:
7th August, 2014
Lara Jean keeps her love letters in a hatbox her mother gave her. One for every boy she's ever loved. When she writes, she can pour out her heart and soul and say all the things she would never say in real life, because her letters are for her eyes only. Until the day her secret letters are mailed, and suddenly Lara Jean's love life goes from imaginary to out of control...
This book is one of those books that you just want to pinch it's cheeks and give it the biggest hug ever. It's so, so cute. I've been on a huge contemporary kick this summer and this book was getting SO many amazing reviews that I knew I had to get my hands on it. This is my very first Jenny Han read and I can assure you that I'll be grabbing the rest of her books very soon! Lara Jean is such a fantastic character; she's lovable, she's hysterical and she's so quirky. Her narrative makes for a quick and fluffy read but it absorbs you into her story entirely.
The thing that surprised me about this book was that it didn't entirely focus on finding out WHO sent the letters out. I thought it would have been a key part of the book, but it focused more on how Lara Jean dealt with the situation. I loved learning about her past and getting glimpses of the letters that she'd written - I think I'd have been mortified in her situation! - but I also liked seeing the other characters reactions to them. It's a book that's guaranteed to induce nostalgia to us older readers and to be completely on point with those that are Lara Jean's age. It just embodies what it is to be a teenage girl and it brought back all those feelings of insecurity, teenage love/ lust and the whirlwind that was our emotions.
To All The Boys I've Loved Before is a book that I wasn't ready to let go of. I didn't want it to end and I'm so eager to find out where the next one is going to take me! I've got so many questions for so many characters. The book just embodies the complications of your first love so perfectly. I really can't recommend it enough!
Now the fun bit. The lovely people at Scholastic sent me TWO copies. One for me and one for you guys. To enter all you have to do is fill in the Rafflecopter form below and follow these rules:
Prize is 1 copy of To All The Boys I've Loved Before by Jenny Han
Open to residents of the UK and Europe only.
Fill in the Rafflecopter form below to enter.
I reserve the right to disqualify any rule breakers.
The winner has 48 hours to respond to my email otherwise a new winner will be chosen.