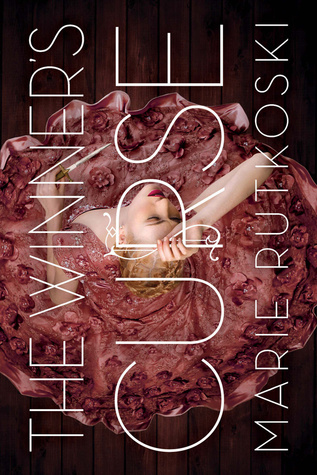 Title:
The Winner's Curse
Author:
Marie Rutkoski
Series:
The Winner's Trilogy #1
Publisher:
Bloomsbury
Source:
Review Copy
Publication Date:
July 3rd, 2014
Winning what you want may cost you everything you love As a general's daughter in a vast empire that revels in war and enslaves those it conquers, seventeen-year-old Kestrel has two choices: she can join the military or get married. But Kestrel has other intentions.

One day, she is startled to find a kindred spirit in a young slave up for auction. Arin's eyes seem to defy everything and everyone. Following her instinct, Kestrel buys him—with unexpected consequences. It's not long before she has to hide her growing love for Arin.

But he, too, has a secret, and Kestrel quickly learns that the price she paid for a fellow human is much higher than she ever could have imagined.

Set in a richly imagined new world, The Winner's Curse by Marie Rutkoski is a story of deadly games where everything is at stake, and the gamble is whether you will keep your head or lose your heart.
The Winner's Curse
is such a magical little book. I found myself immediately lost in this world that Marie Rutkoski has created. Constantly playing through my mind were comparisons to
Throne of Glass
- always a winner in my eyes - but there's also similarities to
The Queen of the Tearling
here too. I think I've found 'my thing' that I'll automatically fall in love with when it comes to books; a female fighter who isn't afraid to use a dagger when it comes down to it. I know that sounds incredibly vague but the books that I've fallen head over heels for have been this, Sarah J. Maas' books and Tearling - the one thing they have in common is a female character like this. It's guaranteed to get me to pick up the book.
Before picking up this book, I was already addicted to it. The cover was gorgeous and there were so many amazing reviews floating about. I was so, so excited to read it and that hasn't changed since putting the book down. Bloomsbury publish some incredible YA and this is up there with the best. Rutkoski has created such a compelling world and such exciting characters. I fell in love with Kestrel from the first chapter; she was feisty, strong-minded and so different from those around her. I loved that she didn't conform to the rules, that she got herself into all sorts of trouble and that she tried so hard to break out of the chains that society had trapped her in. The relationship that develops between Kestrel and Arin is magical to witness and I loved the ways in which they learnt more about each other. I loved the mystery surrounding Arin and I'm still intrigued to learn more about both of these characters!
Although you can see the ending coming as you read through the books, it still makes for one hell of an exciting and bumpy ride. With an amazing semi-cliffhanger to end, I am most certainly looking forward to reading the second book in this trilogy. There's so much more that I want to say but I don't want to spoil this for anyone that hasn't read it. Rutkoski writes beautifully and powerfully; her characters and her world building jump off the page and ensnares you in this magical world. There's so much happiness, conflict, heartache, love and fear in these pages. I couldn't get enough of this book and I think it's going to end up being up there with my favourites!