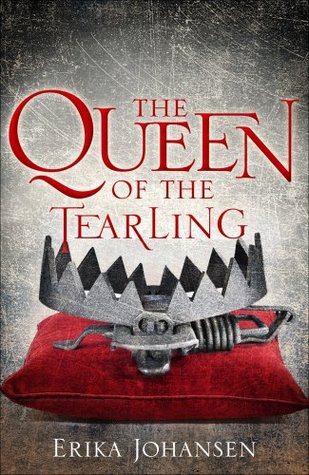 Title:
The Queen of the Tearling
Author:
Erika Johansen
Series:
The Queen of the Tearling #1
Publisher
:
Transworld
Type:
Review Copy
Publication Date:
July 17th, 2014
Kelsea Glynn is the sole heir to the throne of Tearling but has been raised in secret by foster parents after her mother - Queen Elyssa, as vain as she was stupid - was murdered for ruining her kingdom. For 18 years, the Tearling has been ruled by Kelsea's uncle in the role of Regent however he is but the debauched puppet of the Red Queen, the sorceress-tyrant of neighbouring realm of Mortmesme. On Kelsea's 19th birthday, the tattered remnants of her mother's guard - each pledged to defend the queen to the death - arrive to bring this most un-regal young woman out of hiding...
And so begins her journey back to her kingdom's heart, to claim the throne, earn the loyalty of her people, overturn her mother's legacy and redeem the Tearling from the forces of corruption and dark magic that are threatening to destroy it. But Kelsea's story is not just about her learning the true nature of her inheritance - it's about a heroine who must learn to acknowledge and live with the realities of coming of age in all its insecurities and attractions, alongside the ethical dilemmas of ruling justly and fairly while simply trying to stay alive...
There is a lot of hype surrounding this book, and I mean a
lot
of hype.
The Queen of the Tearling
has been a book that I've been so excited about ever since hearing about it. I adore books like this and I was excited to read it. In fact, I'm excited to reread this book. I don't feel like it's a book that you can get everything from in one read. It's one of those that will get richer the more you read it. A bit like how I feel about
Harry Potter
, really. I still have some questions about the book too, but to be honest it just makes me want to go back and read it all over again.
I adored the entire premise of this book. The good queen, bad queen immediately made me think of
Alice in Wonderland
,
The Wizard of Oz
and all sorts of childhood fairytales. I knew from that moment that it was going to be a compelling and exciting debut. As you can see from my rating, it most certainly didn't disappoint. I love the anticipation that is built up with every page; with a history of royalty assassinations the reader is kept on their toes through constant wondering. Will Kelsey get hurt? How many attempts will there be on her life? What's the Red Queen's secret? I'm so intrigued by the entire book! The world building is so perfect; I can't get enough of this world. It's going to make a phenomenal film.
Nothing seems entirely traditional either. The Red Queen isn't the type of villain that I expected. She is such a complex character and very likeable for a villain. The same goes for Kelsey. She is feisty and hot-headed but so loveable. After being hidden for so many years from the Caden she comes into role amazingly. She is strong and bold and believes so much in doing the right thing. Despite this, Kelsey has so many flaws. She isn't a fighter, she has moments where she can't control her rage and she's still learning how to control her abilities. I'm so excited to see what's going to happen with these two characters. I'm completely in love. I can't seem to get them out of my head!
Not only are the protagonists exciting, but so are the Queen's guards, Thorne and The Fetch. Thorne is the ultimate villain, I'd say. At least in this book. We discover fairly early on that he is the one after the Queen's blood. His underhand tricks and attempts are enough to fill anyone with rage. I don't want to say too much here because it might spoil things for others! The Queen's Guards are brilliant. The friendship between them and the relationship that builds between them and the Queen is amazing. I loved reading their exchanges - it all just made me a very happy reader! The Fetch is one I definitely can't wait to read more about. He's so captivating and mysterious; he seems to be a kind of Robin Hood minus the money so far.
As you can all see, I adored
The Queen of the Tearling
. It's been a difficult review to write because I enjoyed it so much. It didn't quite makethe 5* because of a few things I'm still confused about (The Crossing?) but they're all things I'm excited to learn about in the next book! This book is a mind-blowing debut; it's written beautifully and the story is so compelling. I really cannot wait for book two. Brilliant, brilliant, brilliant!