It's Kind of a Funny Story - Ned Vizzini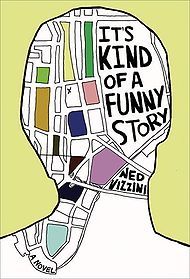 Like many ambitious New York City teenagers, Craig Gilner sees entry into Manhattan's Executive Pre-Professional High School as the ticket to his future. Determined to succeed at life -- getting into the right high school to get into the right college to get the right job -- Craig studies night and day to ace the entrance exam, and does. That's when things start to get crazy.
At his new school, Craig realizes that he's just average, and maybe not even that. He soon sees his once-perfect future crumbling away. The stress becomes unbearable and Craig stops eating and sleeping -- until, one night, he nearly kills himself.
Craig's suicidal episode gets him checked into a mental hospital, where his new neighbors include a transsexual sex addict, a girl who has scarred her own face with scissors, and the self-elected President Armelio. There, isolated from the crushing pressures of school and friends, Craig is finally able to confront the sources of his anxiety.
Ned Vizzini, who himself spent time in a psychiatric hospital, has created a moving tale about depression, that's definitely a funny story.
It's Kind of a Funny Story
was fantastic. There's a quote on the back of the book which states that it's 'a book about depression which not the least bit depressing' and I really couldn't agree more. I loved reading about Craig's story and, with it being written by someone who has spent time in a psychiatric hospital, I often found myself wondering how much of Craig's experiences were echoes of what Ned Vizzini had experienced himself. This book was such an emotional rollercoaster. I found myself worried for Craig but also worried about his family. Reading this was such an eye opener and I don't know why it's taken me so long to read it!
I felt like this book was filled with so much hope. Craig checks himself into hospital as his thoughts spiral out of control. On the brink of committing suicide, he finally decides to take it upon himself to get the help that he deserves. What I found selfishly hopeful about the book was the perspective. Once Craig had been admitted to the psychiatric hospital, he soon realises that the majority of the people in there are probably in worse situations than himself. This gives him so much perspective on what he's going through and the hope that he needs to get better. Another thing I loved was that Craig finally bonded with other people. Previously, he had gotten himself into so many messes with the pressure of school and had began taking drugs and throwing his life away.
It's Kind of a Funny Story
shows the light at the end of the tunnel. That things may seem irreparable but there's always a solution.
Everything Craig feels seems so spot on for his age. His emotions are everywhere and hormones are going crazy. Needless to say this doesn't help him in his battle against depression.
It's Kind of a Funny Story
explores depression, love, sex, drugs; everything that teens are forced through. This was such a positive and uplifting read despite this. It's probably one of the best books about depression that I've read. I recommend it to everyone. It's a quick and captivating read and it was so refreshing to read something which deals with mental health with such positivity.