The Distance Between Us - Kasie West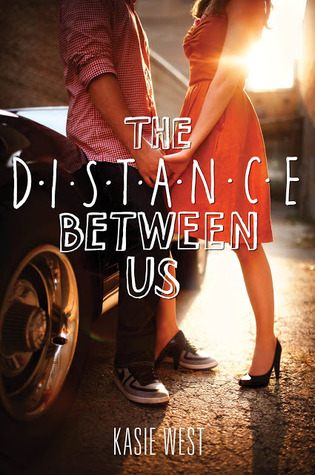 Seventeen-year-old Caymen Meyers studies the rich like her own personal science experiment, and after years of observation she's pretty sure they're only good for one thing—spending money on useless stuff, like the porcelain dolls in her mother's shop.

So when Xander Spence walks into the store to pick up a doll for his grandmother, it only takes one glance for Caymen to figure out he's oozing rich. Despite his charming ways and that he's one of the first people who actually gets her, she's smart enough to know his interest won't last. Because if there's one thing she's learned from her mother's warnings, it's that the rich have a short attention span. But Xander keeps coming around, despite her best efforts to scare him off. And much to her dismay, she's beginning to enjoy his company.

She knows her mom can't find out—she wouldn't approve. She'd much rather Caymen hang out with the local rocker who hasn't been raised by money. But just when Xander's attention and loyalty are about to convince Caymen that being rich isn't a character flaw, she finds out that money is a much bigger part of their relationship than she'd ever realized. And that Xander's not the only one she should've been worried about.
*Received in exchange for an honest review*
The Distance Between Us is one of those books that you want to read infinitely. I didn't want this book to end. I could have happily read Caymen and Xander's story forever. I loved the characters and I definitely wasn't ready to say goodbye to them by the novels close. It's the kind of book that you know won't have a sequel but pray that it does just so that you can spend more time with the characters. At least this how I feel about it. As someone that doesn't usually read Contemporary YA, I'm slowly becoming converted. I wouldn't have thought to accept this book for review a few months ago, but it's easily one of my favourite reads of 2014 so far!
"This is me facing failure. This is me putting everything on the line even though I know I might lose. And I'm terrified. But like you said, anything worth having is worth the risk."
Caymen was such an amazing character to read about. She was definitely someone I could have seen myself spending time with. She's snarky and sarcastic, she's humorous and loyal; I thought she was fantastic. She is such a perfectly created teenager; she's worrying about school and university, she's worrying about her family, she's worrying about boys and her friends but she manages to come out the other side just fine. I was getting bored of reading about these perfect characters. None of them seemed to come to life, but I even found myself dreaming about this book. That's how invested in these characters I was. I loved reading about the contrasting lives of Caymen and Xander. With Caymen coming from a poor background and with many prejudices and Xander being the heir of a huge hotel chain, things weren't destined to be smooth for this couple but I was hooked on their growing relationship from the word go.
"Is that your subtle way of saying you missed me last week?"

"I've missed my hot chocolate. I just think of you as the guy who brings it to me. Sometimes I forget your name and call you hot chocolate guy."
There was so much depth to The Distance Between Us. Kasie West explores societal issues, familial issues and so much more. This wasn't anything like I expected to be and it completely blew me away. I was hooked from start to finish and I'm still not ready to let go of this book. It's one of those books that I'd immediately pick up and read again - and there aren't many of those for me. It was such a fantastic book and I can't wait to read more of Kasie West's work!