The Perks of Being a Wallflower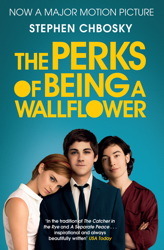 Charlie is a freshman.
And while he's not the biggest geek in the school, he is by no means popular. Shy, introspective, intelligent beyond his year yet socially awkward,he is a wallflower, caught between trying to live his life and trying to run from it.
Charlie is attempting to navigate his way through uncharted territory: the world of first dates and mix tapes, family dramas and new friends; the world of sex, drugs, and The Rocky Horror Picture Show, when all one requires is that perfect song on that perfect drive to feel infinite. But he can't stay on the sideline forever. Standing on the fringes of life offers a unique perspective. But there comes a time to see what it looks like from the dance floor.
The Perks of Being a Wallflower is a deeply affecting coming-of-age story that will spirit you back to those wild and poignant roller-coaster days known as growing up.
I had such high expectations for this book, but it just didn't happen for me. I don't know if this is because I saw the film (which I loved) before the reading the book or what, but I just didn't click with this as much as I did with the film - this very rarely happens! This isn't to say that I think it's a bad book. I did like reading it. It took me a very long time to get into it though. I felt like I'd read half the book before I felt a little more invested in the characters and the story Chbosky was telling. I'm glad I've read this book though. I'd forgotten a lot that had happened - apart from the brilliant tunnel scene - and was horrified all over again by the ending.
I found myself feeling quite bored by most of the book. The diary form I loved and I found myself empathising with Charlie a lot. I really wanted to know what was going on with him. It was clear that he was having panic attacks fairly frequently and I couldn't remember from the film what had caused them. It ensured a heart-wrenching ending to the book though. I felt that it was an accurate coming of age story, but I couldn't bring myself to drag up much interest in the day to day life of these teenagers. I felt like it only displayed a section of adolescence and one that was very much about experimenting with drink and drugs.
Even though I didn't enjoy the entirety of Perks it still made for a great read towards the end. The final 70ish pages prevented this book from falling into the 2* category. Things really picked up, emotions got higher and things were unveiled. It was this emotion that I wanted from the beginning. I wanted this compassion, these reactions from the characters. I liked the complexity of the novel too and the various ways of coping with certain situations. It's definitely a book that's worth reading; it just didn't live up to my expectations!