Fangirl - Rainbow Rowell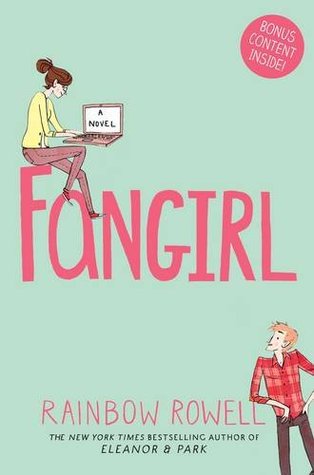 In Rainbow Rowell's Fangirl, Cath is a Simon Snow fan. Okay, the whole world is a Simon Snow fan, but for Cath, being a fan is her life—and she's really good at it. She and her twin sister, Wren, ensconced themselves in the Simon Snow series when they were just kids; it's what got them through their mother leaving.
Reading. Rereading. Hanging out in Simon Snow forums, writing Simon Snow fan fiction, dressing up like the characters for every movie premiere.
Cath's sister has mostly grown away from fandom, but Cath can't let go. She doesn't want to.
Now that they're going to college, Wren has told Cath she doesn't want to be roommates. Cath is on her own, completely outside of her comfort zone. She's got a surly roommate with a charming, always-around boyfriend, a fiction-writing professor who thinks fan fiction is the end of the civilized world, a handsome classmate who only wants to talk about words . . . And she can't stop worrying about her dad, who's loving and fragile and has never really been alone.
For Cath, the question is: Can she do this? Can she make it without Wren holding her hand? Is she ready to start living her own life? And does she even want to move on if it means leaving Simon Snow behind?
I've had Rainbow Rowell's books sat in my room for the longest time now and for some reason I never got round to picking them up! I'm cursing myself for leaving it so long.
Fangirl
was the cutest, most beautiful book ever. I could pick Cath up and give her the biggest cwtch ever. She is absolutely adorable and I am 100% certain we would be friends. Reading
Fangirl
reminded me so much of my first year at university it was unreal. Having social anxiety, not feeling comfortable, taking awhile to settle in, finding this guy and then everything starts to make sense again. Confidence starts growing, you start breaking out. Ah, this made me so nostalgic for Freshers and it's definitely going to be a book that I read again and again.
The one thing that completely sold me on this book was how I could completely empathise with Cath's fangirling over Simon Snow, especially being a part of the
Harry Potter
generation. I even started googling Simon Snow in the hope that it was real. Unfortunately it's not, but it should be! I loved reading Cath's fanfiction alongside her university life. I've never read or been particularly interested in fanfic, but after reading this I feel the urge to write my own. Rowell's writing is so unbelievably captivating and influential. From the layout of the book with the snippets of the fan fiction to the whirlwind that Cath and Wren go through; I was hooked from the word go and this is
literally
impossible to put down. And that's not a silly use of the word, I mean it is physically impossible to put it down once you start reading it!
I loved all of the characters, especially Reagan. A girl after my own heart! Her comments were hysterical and I just loved how straight forward she was. Levi was adorable. Absolutely adorable. He made mistakes but he was absolutely wonderful. Wren was a train wreck waiting to happen but I adored the contrast between her and Cath. I thought Rowell showed perfectly the differences in coping with moving away from home for the first time. With no rules this freedom seems to take over Wren, but I loved that she was flawed. It just made
Fangirl
all the more realistic.
*MILD SPOILER*
Now onto why it didn't quite make the 5* rating I hoped it would. The ending. It was perfect, but I wanted the ending narrative to be different. I didn't want it to end on that note. I wanted Cath's actual words, not the written ones that she'd created. That's it really. I know it seems like a small thing, but that was what made the difference for me!
Having read
Fangirl
I cannot wait to read more of Rowell's work. She's in Cardiff soon so I think I may need to book some tickets for that!
Fangirl
has given me a whole other author to worship and I regret nothing!