This is a meme hosted by me here at my blog :).The aim of this meme is to share with fellow bloggers a character, spell, chapter, object or quote from the books/ films/ J. K. Rowling herself or anything Potter related! I will be picking a topic within HP for us to focus on each week and then if anyone wants to take part feel free! All I ask is to link back here, to my blog :). There is now a full list of the topics to come in the Harry Potter section of my blog
here
.
Worst Spell
I left this one a little open ended. It can be most boring spell, most pointless spell, most dangerous spell. I planned on using it for a silly spell. Something like, I dunno, Rictusempra that doesn't really do much but help in a playful duel. I decided to go for one of the scariest curses though. This is a curse that scares me even more than Avada Kedavra does:
Cruciatus Curse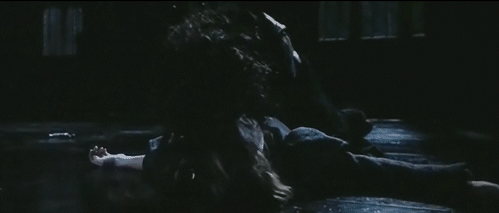 "Never used an Unforgivable Curse before, have you, boy?" she yelled. She had abandoned her baby voice now. "You need to mean them, Potter! You need to really want to cause pain -- to enjoy it -- righteous anger won't hurt me for long -- I'll show you how it is done, shall I? I'll give you a lesson--!"
I find this beyond terrifying. Imagine not being able to escape the torture that someone has you under. At least with Avada Kedavra it's quick and it's over. I think the thing that horrifies me the most is what happened to Neville's parents due to Bellatrix. *shudders*. Poor Hermione as well :( probably some of the worst bits to read in The Deathly Hallows!