This is a meme hosted by me here at my blog :).The aim of this meme is to share with fellow bloggers a character, spell, chapter, object or quote from the books/ films/ J. K. Rowling herself or anything Potter related! I will be picking a topic within HP for us to focus on each week and then if anyone wants to take part feel free! All I ask is to link back here, to my blog :). There is now a full list of the topics to come
here
.
Favourite Quidditch Team
I know that there are plenty of teams to choose from, but no other team will have that special place in my heart like the Gryffindor Quidditch team. The team of Wood, Fred, George, Alicia, Katie, Angelina and Harry are humorous, talented and just one of the best teams in the entire series. I loved reading their matches and always feel devastated reading about their loses (especially to Slytherin!)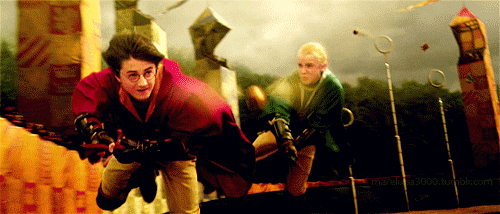 It's made all the better that it is one of the first places that Harry truly fits in. Not only was his father a brilliant seeker, but Harry is the youngest seeker that Hogwarts has seen. I love the first time we see him fly as he saves Neville's Rememberall. I love that his is one of the key ways in which the Potter/ Malfoy rivalry starts. So many great things are connected to this team, including the joining of Ron and Ginny!