This is a meme hosted by me here at my blog :).The aim of this meme is to share with fellow bloggers a character, spell, chapter, object or quote from the books/ films/ J. K. Rowling herself or anything Potter related! I will be picking a topic within HP for us to focus on each week and then if anyone wants to take part feel free! All I ask is to link back here, to my blog :). There is now a full list of the topics to come
here
.
Dumbledore's Army vs. Inquisitorial Squad:
Which would you choose?
For me, this weeks was a complete no brainer. I would be a DA member all the way.
When I first read Order of the Phoenix, there was nothing more that I wanted than to be a member of Dumbledore's Army. Learning important Defence Against the Dark Arts skills, rebelling against Umbridge and preparing to fight Voldemort - it all sounded so exciting to my childhood self! Without a doubt, I would want to hand Voldemort his own backside! Haha.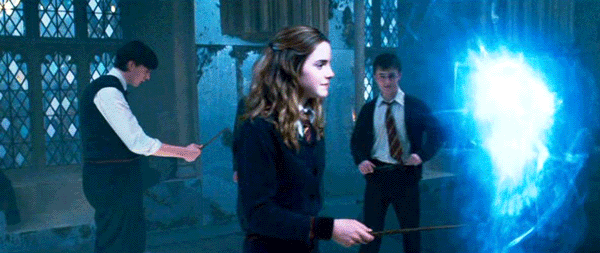 "That's right," said Luna encouragingly, as if they were back in the Room of Requirement and this was simply spell practice for the D.A. "That's right, Harry... come on, think of something happy..."
"Something happy?" he said, his voice cracked.
"We're all still here," she whispered, "We're still fighting. Come on, now..."
What side would you guys be on?