This is a meme hosted by me here at my blog :).The aim of this meme is to share with fellow bloggers a character, spell, chapter, object or quote from the books/ films/ J. K. Rowling herself or anything Potter related! I will be picking a topic within HP for us to focus on each week and then if anyone wants to take part feel free! All I ask is to link back here, to my blog :). There is now a full list of the topics to come here.
Favourite Food in HP Books
There are so many choices for this one. I mean, I'm pretty sure each and every one of us has at least once wanted to attend the great feats held in the Great Hall. I think my favourite food would probably be Fred & George's wonderful products created as part of Weasleys' Wizard Wheezes! My favourite though is the Skiving Snackboxes! How amazing are they? One end to get you out of class, the other to make you feel all peachy in no time. Absolutely brilliant invention - if only it was real. Haha.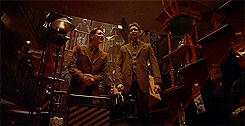 A Skiving Snackbox is a range of sweets to make the user ill. The user develops strange symptoms depending on the type of snack eaten. The purpose of these was to make a student appear unable to stay in class. Most came in two colour-coded parts: one that would cause the malady, and one that would heal the pupil once they had left class. They include: Fainting Fancies, Fever Fudge, Nosebleed Nougat, and Puking Pastilles.